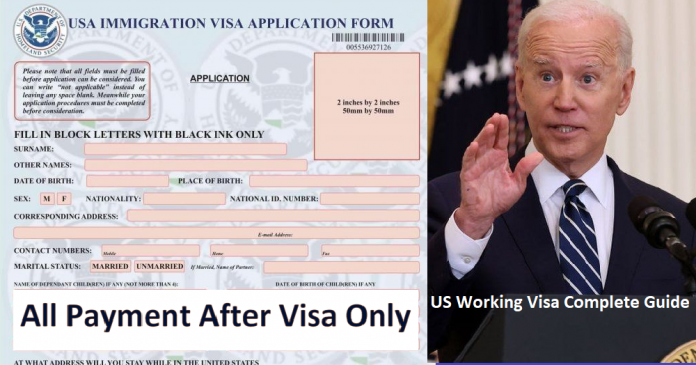 The United States of America has increased 22 thousand temporary working visa. Here is US Working Visa Complete Guide for you.
Are you thinking of US working visa. Well, complete this online application form.
Take a short tour to find either you are eligible for this visa or not. It does not take longer. Hence to be sure about the type of visa that suits for you take this test.
US Working Visa Complete Guide
People are thinking that it is not easy to live and work in America. But if you study about different types of visas that America provides the migrant workers it is not that much hard as you think.
Here we provide the step by step process for the working visa online application.
Search Job in Different US Based Companies
If you are currently working in any gulf countries and your company is America based in such condition you can move to America in the same company. There are several Nepali migrant workers in USA who were shifted from gulf countries.
Fresh Applicants for US Working Visa
Many companies in America are looking for the skilled workers in the global market. In such case you can apply for the vacant post. During your application you have to submit all the document and your experience.
If the company find that you are the needy candidates for the company, then only your visa application begins from this point.
Job Offer Letter
Well, to apply for the visa in the American embassy you need the job offer letter. It is the document from the employer in USA. The employer on behalf of the employee apply for this document. It is called petition. When your employer send the job contract letter then you have to move the American embassy in your country.
There are different kinds of work permit visa in USA. Like just now the ministry of labor of US government has increased the number of migrant temporary workers by 22 thousand.
We have many articles about the working visa in USA. Hence if you want to learn more about it check our previous articles.
Working Visa in Canada
Canada also provides working visa to the foreign nationals. It depends upon your qualification and skill. If f you are really skillful then you have high demand in the global market. Many developed countries are running out of labor shortage.
Working Visa in Europe
If you have Schengen working visa, then you can live and work in any European Union countries. There are many good opportunities to live and work in Europe.