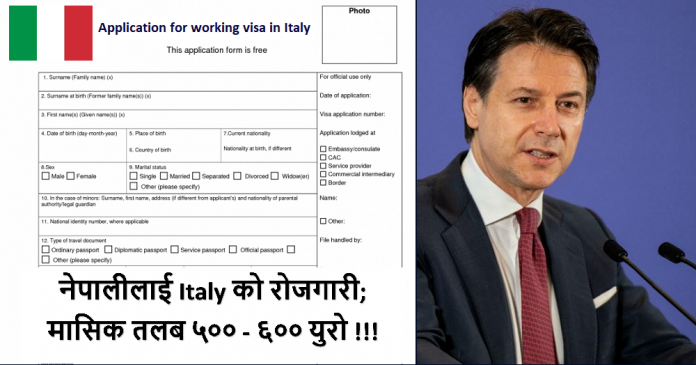 International Companies operating in Italy can hire foreigner in their company. So here we provide the procedure to get working visa in Italy.
You can check your eligibility test from here. So, take few minutes to know more about your eligibility.
Working Visa in Italy
First let us discuss on the types of work visa in Italy. As you know well that each individual requires work permit to live and work in any European country. Hence you must have work visa to live and work in Italy.
Employee from the European Union (EU) requires no work permit to live and work in Italy. Similarly, the citizens from the European Economic Area are also free to work in Italy.
Employee who is not the member of EU or EEA requires working visa to live and work in Italy.
D Visa in Italy
In Italy the working visa is also called D Visa or long term visa. You can start your job only when you receive work permit from the Italian government.
Document Required for Visa Application
You need job offer letter from the company in Italy to apply for the visa in Italian embassy in your country. This job offer letter you have to receive from the employer in Italy.
The employer in Italy has to apply on the behalf of employee for the permission from the government. The government after completing the administrative procedures decides on this issue. So, if you are able to get job contract letter then only your visa application process begins.
Valid passport and its copies
Job offer letter
Completely filled visa application form
Visa fee paid receipt
And other supportive documents
Visa Application Process
When you receive the job offer letter from your employer then together with this document you have to visit the embassy or consulate office in your country. There you have to take the visa appointment and follow the normal procedure.
Working Visa in China
It seems news to the Nepali migrant workers looking for the abroad job. But due to the single child policy of china there is acute shortage of labor in the market.
Hence the multinational companies are now preparing to hire the workers from the developing countries like Nepal.
Work Visa and Permits in UK
The next good opportunity for the abroad job in United Kingdom. There is strong believe with Gurkhas about their honesty. Hence the British Government is willing to take the workers in the agricultural as well as in the industrial sectors.
So, whenever the British government calls for the working visa we will provide the notice in this page.