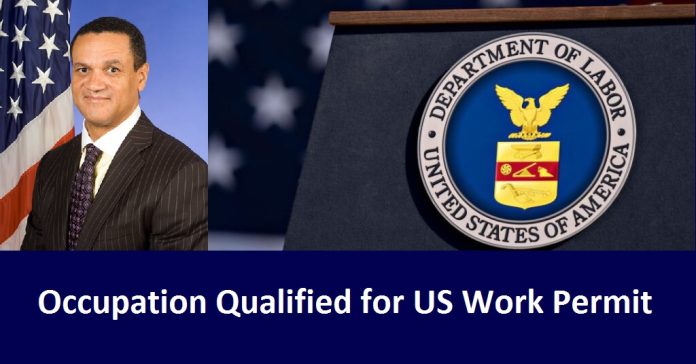 Opportunity to live and work in America!  Here is the list of Occupation Qualified for US Work Permit.
Complete your online application from here. Just take 2 minutes to complete the online form.


Special occupation that requires minimum bachelor degree.
The department of labor finalize whether your occupation falls under this category or not. However your job must be for some specific purpose.
Free Trade Treaty Countries Citizens
Citizens from free trade treaty countries can live and work in USA for certain time period. They can get temporary working visa for America. People from Singapore and Chile are eligible for this work permit.
Spouse and Children are not eligible if they are from other nationalities.
Seasonal Agriculture Workers
The employer can hire foreign labor under certain condition. So in such case foreign workers can apply for temporary workers in USA. But the employer must prove the shortage of labor in domestic market.
People having extra ordinary capacity in the field of science, arts, education and business are eligible for the work permit visa in USA.
Job Offer Letter
You need to receive job offer letter from the agent or employer before apply for the visa in the US embassy. We discuss in length about it in this article. US based companies can hire the foreign labors if it cannot be fulfilled from the American labor market.
Apply Now
Read this article for the complete guide to apply for US working visa. Here we discuss in detail about different types of work permit visa for United States of America.
Occupation Qualified for US Work Permit
If you want to work in USA as non-immigrant temporary workers you need specific visa based on type of work you will be doing. Basically your employer must file a petition on behalf of the employee which must be approved by US citizenship and immigration services (USCIS).
US Work Permit Application Process
All the applicants apply for H, L, O, P and Q visa must approve the petition file on behalf of the employer or agent.
The employer or agent will receive notification from USCIS once the petition will be approved. So, the applicant must bring this petition approval number during the visa interview in the embassy or consulate office in their respective countries.
For more details you can learn from our previous articles.