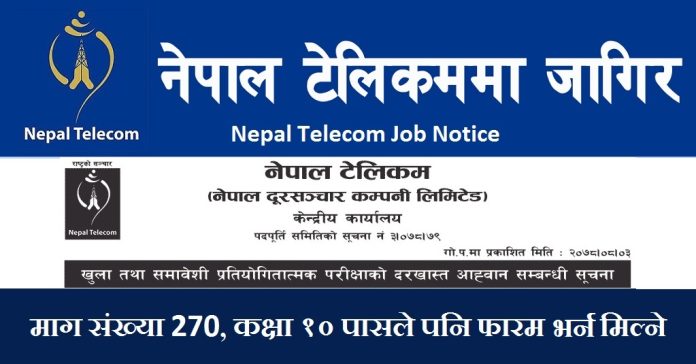 Here is Nepal Telecom Job Notice Published in Gorkhapatra. We have attached the vacancy Notice in this page.
United Kingdom is going to provide working visa for Nepali. So, follow the above link for more details about it.
270 Vacancies in NTC
Nepal Telecom has announced vacancy for 270 people. Candidates from SLC or SEE passed can apply for the post. Read the detail of the job vacancy given below.


You can submit online form for this job. Here we give the procedure to fill the online job form.
How to apply online form?
Create one Email ID for this job application. As you receive all notice and information in this email ID.
Now go to www.recurit.ntc.net.np for application.
You can also find the online application form in the official website of Nepal Telecom. It is www.ntc.net.np
Give the family details.
Upload the documents.
If you face any problem while submitting the online form you can contact in these numbers.
014210416, 014210473, 014210415
Nepal Telecom Job Notice
NTC is the leading organization in Nepal. In this fiscal year it is the highest tax paying company in Nepal. Hence there is better facility to the employee in NTC. This time NTC has announced vacancy in large number. Here is the detail Job notice.
People are also interested in the following jobs.
The state government let the private companies to hire the labors from abroad. There is acute shortage of labors in the agricultural. Hence it is going to enroll more than 22 thousands foreign citizens in the agricultural sector as temporary workers.
The detail information about this you can read from our past news articles.
France Army Job for Nepali
Nepali citizens below 40 years are eligible for the French army job. There is hundreds of Nepali currently serving as French army. It is good for the young and energetic people will to serve as an army.
Working Visa in Europe
No one is allowed to work in Europe without working visa. Hence you must take work permit to live and work in any European country. In this connection Portugal can your best destination.
Get the complete job application process from our previous articles.