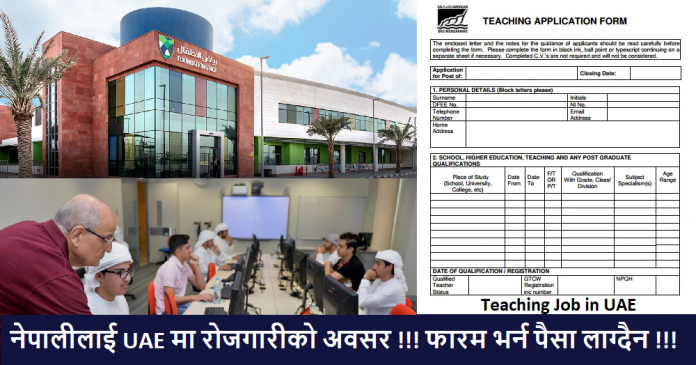 There is 1024 teacher's vacancy in United Arab Emirates. Hence you can make online application for Teaching Job in UAE from this page.
Well, you can make online application for UAE teaching jobs. Check the detail application procedure and salaries in this article.
Teaching Job in UAE for Nepali Citizens
There are many international schools in Dubai. These schools are looking for the dynamic teachers in different subjects. Basically they are looking for science, mathematics and physical education teachers from abroad.
GEMS Education
GEMS education is the international education company. Global education management system (GEMS). It provides and manages teachers over 70 schools in more than one dozen countries. Here we discuss different vacancies called by GEMS in different Countries.
Primary Teacher
The minimum requirement for primary teacher is Bachelor Degree in the relevant field. Similarly, you must have the teaching license or bachelor in education training. So to make the online application you have to follow the above link.
Physical Education Specialist
GEMS is looking for the physical education teacher. So the interested Nepali candidates can apply for the post. As it is the vacancy of GEMS it is global vacancy. Hence you can choose the job in your preferred countries.
Teaching Assistants
Candidates must have minimum bachelor degree with mathematics and English as major subject.
Your main responsibility is to assist the general teacher for homework or whole class.
School Counsellor Abu Dhabi
Minimum bachelor degree in career counselling or social service or education.
The candidates must have 2 years' experience in students counselling.
Beside teaching job here we have more about other kinds of jobs in United Arab Emirates.
UAE Police Job
Nepali citizens can apply for the police job in UAE. So if you want to learn more about it please check our previous articles. We have detail procedure to join police job in UAE.
Finally, Nepal government has allowed the Nepalese youths to join Qatar police via the manpower companies in Nepal. In the past there was dilemma about it.
Once the manpower companies called for the interview to join Qatar police. Later on Nepal government raid these manpower offices. But now manpower company can take the job demand for Qatar police.