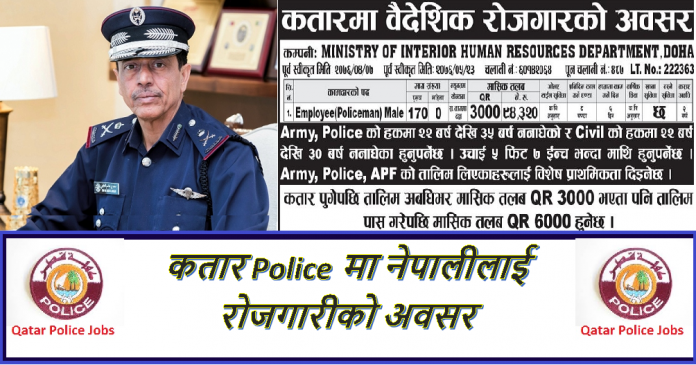 Finally, Nepal government has allowed manpower to recruit Qatar Police Job Demand for Nepali Citizens. The details about the job demand is coming soon in our next article.
Complete your online job application from here. Only short listed candidates can appear for the physical test.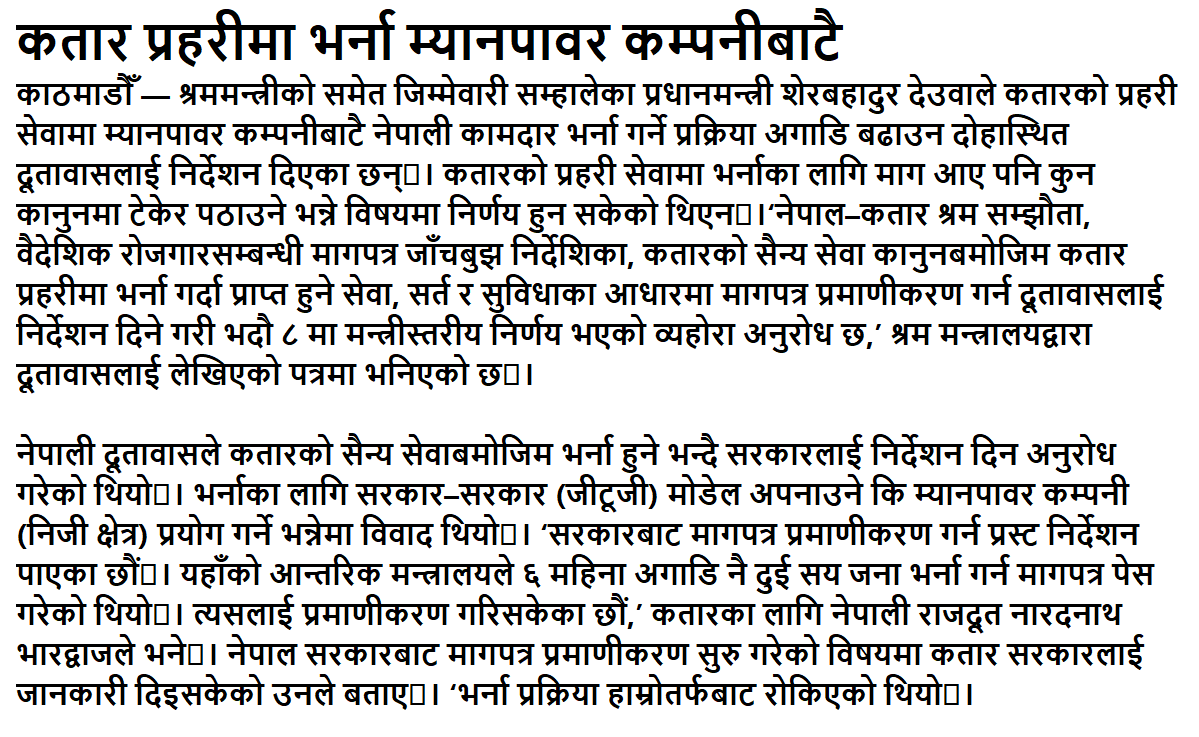 Complete the online application form carefully. At the end you will know either you are eligible for the job or not.
Qatar Police Job Demand for Nepali Citizens
Initially Nepal government has not allowed the Nepali citizens to join the Qatar police force. So, some of them might have joined via illegal route. But now the government has opened the door to the man power agencies to take the demand from Qatar for the police force job.
Requirement for Qatar Police
Height 5.7 feet
Age 20 – 30 years for civilian candidates
22 – 35 for ex-army or police
Strong physical building
Academic Qualification
Beside this physical requirement the candidates must have the following academic qualification.
High school education i.e. minimum class 12 passed
Genuine experience documents
Other training certificates if any
Recruitment Process
The individual candidates have to pass the following process during the Qatar police selection.
Physical Test
Running
Jumping
Pushing
Sit up
Interview
Written – The candidates may face the interview. It depends upon the selection officers.
Qatar Police Job for Pakistani
There are huge number of Pakistani people in Qatar police force. Some Pakistani citizens are also serving in Royal Qatar Army.
Indian in MOI Qatar Police
Basically Indians are in the technology sector. Similarly, Indian people are also working in police force in Qatar.
Nepali People in Qatar Police Force
Finally, Nepal government agreed to supply manpower for the Qatar police force job. In the lack of mutual agreement between Qatar and Nepal there was confusion among the Nepali youths looking for police job in Qatar.
Salary for Qatar Police
The salary for the Asian people serving in Qatar Police starts from 3000 QAD to 6000. The one batch of Nepali has already completed the 2 years' tenure in this police force.
Nepali First Batch in Qatar Police
600 Nepali people has already completed the two years in police force. Now Qatar government is going to enroll nearly 12 thousand candidates for upcoming world cup football 2022.
We will upload the job demand letter in this page. Hence we suggest all the interested candidates to remain in touch with us for all kinds of foreign employment notices.