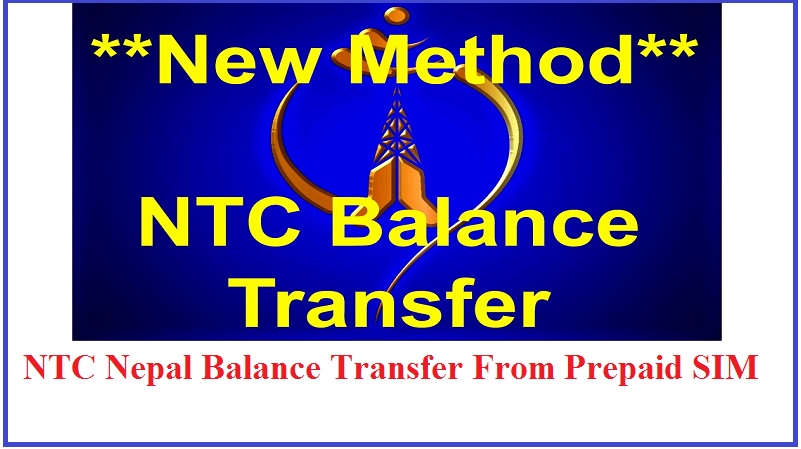 Here is the detail about NTC Nepal balance transfer. So, by following the instruction given over here you can enjoy NTC Nepal balance transfer facility. There are several other posts related to Nepal telecom in our website hope you enjoy them.
To transfer balance from one NTC SIM to another, just follow these steps:
NTC Nepal Balance Transfer From Prepaid SIM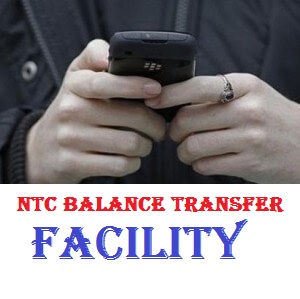 How to Transfer Balance from NTC Prepaid SIM?
Find out your Security Number:
When you buy an NTC SIM card, it is initially attached to a larger rectangular card. It contains some very important information such as the PIN1, PIN2, etc. Your security number can also be found here. Make sure to store this number somewhere safe.
For NTC Nepal Balance Transfer, use Paisa not Rupees:
Before I give you the actual code for balance transfer, you should know that the process to transfer balance from NTC prepaid SIM uses paisa, not rupees. So, to transfer Rs. 5, you'd need to input 500 paisa.
Enter the following code:
*422*(Security Number)*(Mobile Number)*(Amount in paisa)#

For example, say I want to transfer Rs. 50 to the mobile number 9841xxxxxx, and my security number is 12345678. I would enter the following code:
*422*12345678*9841xxxxxx*5000#
(Rs. 50 = 5000 paisa)
Now, just hit dial, and wait for the process to complete.
Therefor just following the steps mentioned above to enjoy balance transfer facility in Nepal telecom prepaid SIM.
About Nepal Telecom GSM Prepaid Service
Nepal Telecom welcomes you to the digital world of mobile technology. In the field of Telecommunications, Nepal Telecom has been the trusted partner of the people of Nepal since 2032. Among many valuable services provided by Nepal Telecom, "Namaste" is the Pre-Paid mobile service launched recently in order to easily make available the latest technology within the grasp of common.
The Starter Pack Contains:
Welcome letter with SIM serial number, Mobile phone number, PIN/PUK numbers and security code.
This User's Guide.
Subscriber Identity Module (SIM) card.
You will also enjoy a world of convenience with:
Instant Access
No deposits
No bills
International Dialing (ISD ):
Pre-Paid subscribers are provided with this facility at the time of purchase.
National Roaming:
Subscribers can go to any place and make or receive call wherever the mobile network of NEPAL TELECOM is present.
"Namaste" basic features (Voice call, SMS and Unconditional call forwarding)
User friendly languages in English and Nepali.
Important Numbers:
| | | |
| --- | --- | --- |
| 1414 | : | To recharge your account, query balance and expiry dates. |
| 1498 | : | "Namaste" Customer Care Service for Pre-paid related complaints and information. |
| 011614 | : | To divert your calls to NEPAL TELECOM Mobile Voice Mail System (VMS). |
| 011616 | : | To check/retrieve messages and for Mailbox management. |
PIN1/PUK1 and PIN2/PUK2 numbers:
These are special numbers provided to you with your welcome package at the time of purchase of new SIM card. Please keep them safe for use when required.
If you make wrong entry of PIN 3 times, your SIM will be locked and will ask you for PUK number. Take great care while entering PUK because, if PUK entry is wrong for 10 times, the SIM card will be damaged permanently.
Security Code:
This code is the Identification of Pre-Paid mobile subscriber. This is also provided with your welcome package at the time of purchase of new SIM card. If your mobile is lost, we advise you to Block your account so that others can not misuse it. For that, dial 1498 and ask to block your Pre-paid account by giving your security code. In case, you find your mobile again, you can un-Block your account by giving the same security code.
Since the Welcome Letter given at the time of purchase of new SIM card contains the above vital information like PIN, PUK and security code, we advise you to keep it safely.
Account balance query:
"Namaste" subscribers can check their account balance by themselves. To check the account balance:
Dial 1414 and listen.
Press 2 and listen. Then press 1 again for account balance query.
OR
Each time you recharge your account, the system will inform you of your new account balance and expiry date.
OR Dial *400#.
The article is compiled with the reference of Nepal Telecom site www.ntc.net.np.
Read More: