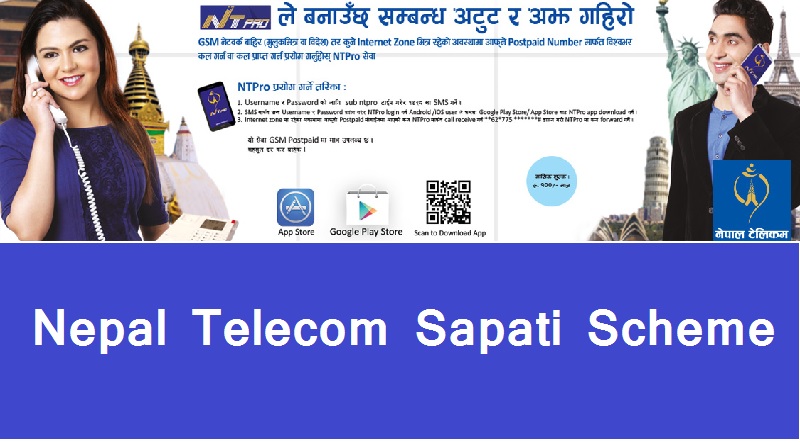 Nepal Telecom is the government based service provider. It has announced about the starting of Nepal Telecom Sapati Scheme. Such type of Sapati scheme is much useful in uneven circumstances. Due to location unavailability of recharge card sometime we may in trouble. This Nepal Telecom Sapati scheme will help its customers a lot.
NTC Sapati Nepal Telecom Sapati Loan Scheme
Ncell Nepal has already started this type of Sapati in the name of Ncell Sapati. The charge of Ncell Sapati is Rs 2.51 for each transaction of Rs 20 loan. It gives loan to the SIM 2 months or older than that. Ncell Sapati is popular among the users. It may be the moral pressure for NTC to start Nepal Telecom loan program.
Regarding the call and data charge comparatively Ncell is expensive than Nepal Telecom. So Nepal Telecom users are expecting that Nepal Telecom loan Sapati scheme will be little cheaper than Ncell.
How much money are telecommunication companies generating from Sapati scheme?
Like if we talk about Ncell it charge rupee 2.51 for the loan of rupees 20. It means mathematically we are paying 12.55% extra while taking the loan.
Generally users pay this loan within a day or hour. It shows that a huge amount is being generating by such loan scheme.
NTC Sapati Nepal Telecom Sapati Scheme
Nepal Telecom Sapati Scheme news came in the market together with the speech of MD Kamini Rajbhandari. She has announced about Nepal Telecom  loan Sapati Scheme in her speech. Mrs Rajbhandari announced that Nepal Telecom customers can enjoy the Sapati loan. You can use this loan for both voice call and data.
---
---
---
---
How to Activate Nepal Telecom Sapati?
This article helps you to activate the Nepal Telecom loan Sapati. It is very easy to activate it in your prepaid GSM mobile.
Note: Nepal Telecom is going to introduce this Nepal Telecom loan Sapati Scheme very soon. So we will notify you all about this loan scheme as soon as Nepal Telecom announced about it. Therefore be in touch for this loan scheme of NTC.