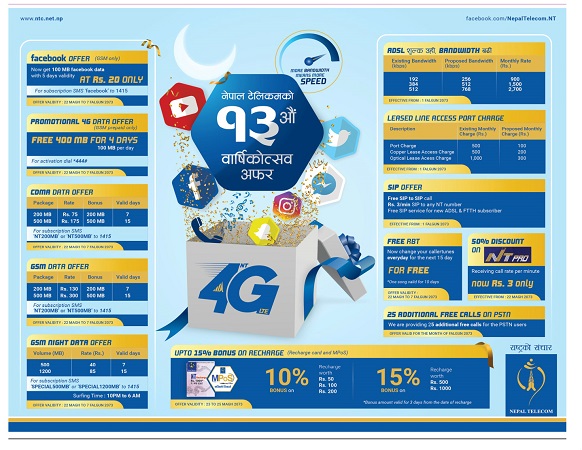 Nepal Telecom 4G service provides high speed internet. So,Nepal Telecom 4G service gives the speed of 30 Mbps for its internet users. NTC has already launched the 4G service for its postpaid user since last January. Initially this NTC 4G services is in Kathmandu and Pokhara. Similarly Nepal Telecom has given the offer of 4 GB data free for 4 days to its 4G users during January.
Nepal Telecom 4G service for Prepaid Users
Now Nepal Telecom 4G service is available for prepaid SIM users. On the 13th auspicious anniversary of Nepal Telecom it has launched this service. Now prepaid users of Kathmandu and Pokhara can use 4G service. However your device must be 4G compatible. In some cases your old SIM card may not support 4G service in such case you have to change the SIM card.
How to activate 4G service?
It is easy to activate 4G service in your mobile phone. More interesting thing is that it does not cost for the activation. At the same time Nepal Telecom users can enjoy 4G service at the cost of 3G. To activate 4G service in your mobile just dial *444#.
How to activate 4G in your iPhone?

As mention above if your old SIM card does not work for 4G you need to change the SIM card. So to change the SIM card you need to visit the Nepal Telecom office in different place in Kathmandu and Pokhara. if you need NTC 4G sim card, you can visit Nepal Telecom office at Hattigauda, Gongabu, Chhauni, Babarmahal, Chabahil, Sundhara, Jawalakhel, Sajha Bhawan, Thimi and Bhaktapur in Kathmandu Valley and Mahendrapul in Pokhara to get NT's 4G/LTE compatible SIM.
You need to dial *444# for activating 4G in Nepal Telecom

Nepal Telecom 4G package
10MB @ Rs 8 valid for 2 days
50MB @ Rs 35 valid for 10 days
200MB @ Rs 130 valid for 1 month
500MB @ Rs 300 valid for 1 month
1GB @ Rs 500 valid for 1 month
3GB @ Rs 1290 valid for 2 months
5GB @ Rs 1800 valid for 3 months
If you have any question about 4G put comment in the following comment box.
Read More: