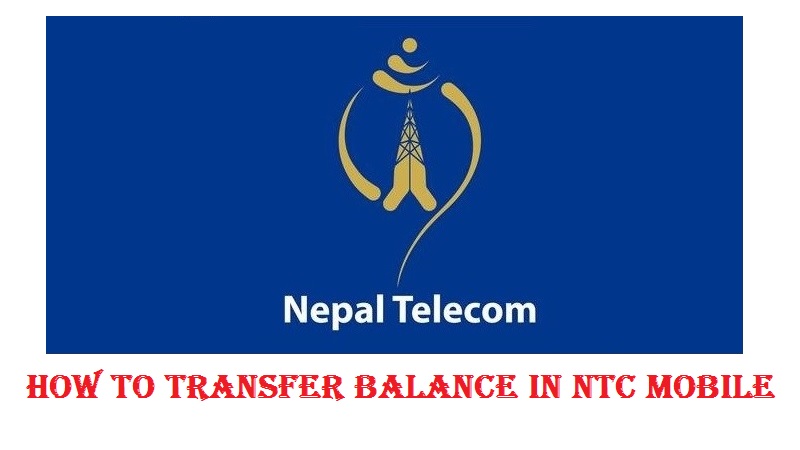 Namaste Balance Transfer open again. This facility of Namaste balance transfer is opened again. So here we have given you all the step by step process to transfer the balance.
As there are numerous posts in our website about Nepal telecom. So it will be wise if you go through them.

Step by Step Process for Namaste Balance Transfer
Dial *422*Security Code*Destination mobile number*Amount in Paisa# (Previous Not working now)
Dial *422*Security Code*Destination mobile number*Amount in Rupees# (Now working)
New update: We can Dail 1414 and know about the services of NTC. So we can recharge our landline phone by using recharge card. Hence NTC has been providing us internet facilities and services with effective schemes at effective rate.
NT Customers can now recharge there GSM Postpaid/ Prepaid Mobile, ADSL Internet Account, PSTN Landline bill from anywhere simply by dialing 1413.
Nepal Telecom has provided different services like ADSL broadband Internet, Dial-up internet access, Internet Leased Line connectivity, Web sms, Telecom etc.
---
---
About Nepal Telecommunication
Nepal Telecommunication Corporation was transformed into Nepal Doorsanchar Company Limited from Baishak 1, 2061. So,Nepal Doorsanchar Company Limited is a company registered under the companies Act 2053.
The goal of NTC is to provide cost effective telecommunication services at every corner of country. Similarly NTC wants to remain as dominant player in telecommunication sector country. They want to extend reliable and cost effective services to all.
It also seems that Nepal telecom has good development on its telecommunication software.
NTC Balance Transfer New Method
Nepal Telecome NTC re-open the balance transfer system which was closed before. Now Balance Transfer New Method for NTC SIM comes with small change.
Balance Transfer New Method For NTC Sim.
So here are some important points that you know to Balance transfer on NTC SIM.
– Can send amount from NRs. 10 to NRs. 100 only on NTC Balance Transfer New Method.
– You can only send 5 times in a Day.
– Facilities available for NTC GSM Prepaid and NTC CDMA Postpaid/Prepaid.
– No need to convert Rupees in to Paisa as previous method. (To send NRs.20, write 20 directly no need to type 2000)
Enjoy balance transfer from NTC mobile.
*422*Security Code*Mobile No.*Rs. #
Security Code: Your Mobile's Security Code.
Mobile No: Mobile number to send Balance
Rs: Amount of Balance in Rs. not in Paisa.
Missing Your Security Code of NTC SIM?
You have to visit Nepal Telecom's Office to get your Security Code. So we hope that you will use with this information.
Search Related Terms:
how to transfer balance in ntc without security code + ntc balance transfer new method + how to transfer balance from ntc to ncell + how to transfer balance in ntc 2016 + ntc balance transfer online + ntc security code hack + how to transfer balance in ncell + how to find security number of ntc