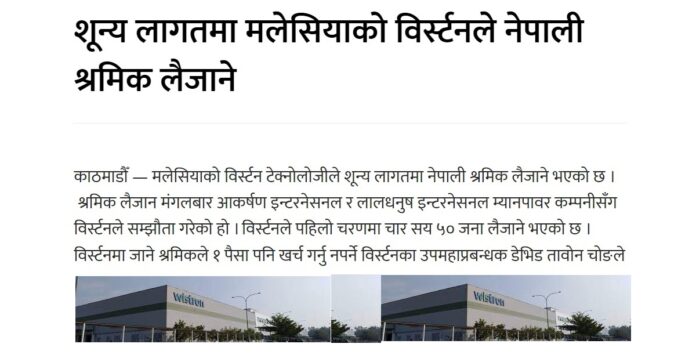 Malaysia Job Opportunity for Nepalese is again open for Nepalese youth. After long discussion Malaysia Job Opportunity for Nepalese is now in action.
Malaysia Job Opportunity for Nepalese
Now it is easy for Nepali migrants to work in Malaysia. According to the latest discussion and conclusion Nepalese migrant worker will get the minimum salary same as the native worker.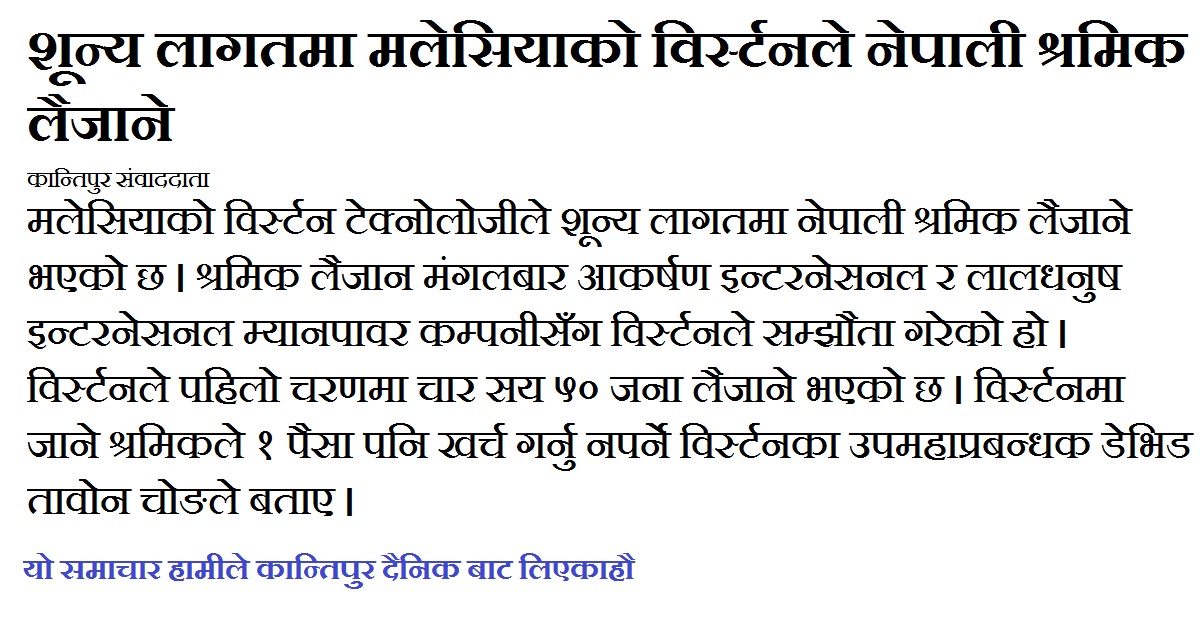 All the cost for the workers will be paid by the employer in Malaysia.
Finally Decision came in the favors of Nepalese workers
Nepali workers willing to Malaysia will not be cheated now onwards. It is because the employer will bear all the cost for Malaysia job. If you want to learn more about it see the Naya Patrika of 2076/5/27.
There are several job opportunities for migrant workers in Malaysia. Here is the list of best paying jobs in Malaysia. Hence you can choose the best job according to you skill.
Special Features of New Provision for Jobs in Malaysia
Here are some special features of new provision to migrant workers in Malaysia.
Employer will bear all the cost
Minimum salary of native worker to the Nepalese workers in Malaysia.
No tax in the given salary.
The company cannot hold the passport of Nepali workers.
No syndicate for the health checkup.
The officials from both countries concluded to open Malaysia for Nepalese workers. According to the conclusion Nepali migrant works need not to pay any amount to go Malaysia.
Similarly these workers will get equal salary as describe by Malaysian government. It means no difference in the salary.
Visa Air Ticket all by Employer in Malaysia
According to the MOU the employer will bear two way air ticket and visa cost while hiring Nepali workers. So this will certainly help and support Nepali youth will to work in Malaysia.
You can see our previous articles about foreign employment.
Currently there are thousands of Nepali workers in Malaysia. Malaysia is the one of the major destination of Nepalese workers for abroad employment.
gbsnote.com is complete portal for abroad jobs. Hence remain with us for fresh news. If you have any question send it to our experts.
Our experts team is working hard. We provide all kinds of foreign employment job notices.
Working Visa Job in USA
USA takes thousands of seasonal workers. They are temporary workers for United State. If you want to join this working visa make online application. How to apply for USA work Visa? Get the answer for this question from previous articles.
People are also searching for:
UAE best jobs for Nepali.
Best Jobs in KSA
Highest paying Job in Korea
Qatar Police job for Nepali
Source of Forex
Remittance is the major forex source in Nepal. Exports is low in comparison to import. Hence let us promote tourism for dollar income.
We have prepared this article in the support of Nayapatrika Dainik.