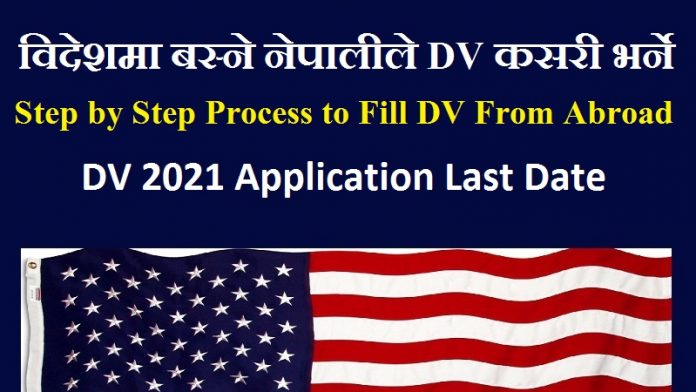 DV 2021 Application Last Date is given below. However we suggest you not to wait for DV 2021 Application Last Date.
How to Fill DV Lottery Application from India?
Read this article till the end. Here we have step by step process for DV Lottery Application from abroad. Hence read the article properly.
DV 2021 Application Last Date
Complete your dv lottery application as early as possible. It is because in the past we have seen that the early applicants have greater chance to win the lottery compared to late applicants. It is completely a lottery program so there is no hard and fast rule on it.
DV 2021 Last Date is 5 November 2019.
How to Apply DV Lottery from Abroad?
Well the Nepali citizens living outside Nepal can make online DV lottery application. Here we give the detail procedure for the online DV lottery application from abroad. So just follow these steps if you are applying DV lottery outside Nepal.
Online DV lottery Application Steps
First of all log in the official website of dv lottery.
The official site of state government for the dv application is dvlottery.state.gov
Fill all the details in the application form.
At last in the application form mention the country from where you are making the online application.
Beside this most of the things are common either you apply diversity visa lottery from Nepal or outside Nepal.
How to make Correct Size DV Lottery Photo?
Well for the people living in Nepal you can find the dv lottery application agents in the market. However in abroad this facility is not available. Hence you have to fill all the details as well as prepare the correct size lottery photograph.
Hence if your photograph is not correct your application will be disqualified. Therefore prepare correct size photo for the dv lottery.
Free Software to Check DV Lottery Photo Size
It is online free software to check the size and quality of dv lottery photo. So we suggest you all to verify the photograph before submitting for the lottery.
Finally we would like to wish you very best of luck for the upcoming EDV 2021.
At last but not the least we suggest you all to contact us if you have any confusion about diversity visa lottery.