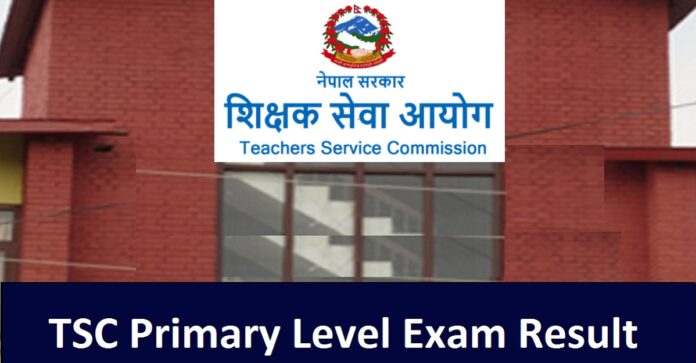 Thousands are waiting for TSC Primary Level Exam Result. TSC written exam for primary level is almost ready to publish.
There are three phases for the TSC Nepal job. The candidates have to pass general exam objective questions exam. Only the successful candidates from this round can compete for the main written exam. Finally, the examinees who are able to come in the merit list will go for the job interview.
TSC Primary Level Exam Result
Looking at the vacancy and the job applicants it shows that there is tough competition for this job. It is the result of the education system in Nepal. Universities are being the factory to produce unemployed man power. At the same time there is scarcity of different kinds of skilled and semi-skilled workers in the market.
TSC Nepal Online Result
Teacher service commission results are available at tsc.gov.np. hence primary level tsc job result is also available in this page. Thousands of candidates are looking forward for primary level job exam result. It is now very close for the result.
Soon after the result of lower secondary level TSC will publish the primary level result.
TSC Job Vacancy
Teacher Service Commission Nepal is going to announce job vacancy very soon. So, all the licensed holder candidates can apply for the job. This time shikshak Sewa aayog is going announce huge amount of vacancy.
Primary Level Result
It is the result of TSC Nepal. Primary level candidates can find their online written exam result from the official page of TSC Nepal. TSC Nepal works for the teacher selection for the community schools. Community school's teachers are selected from large number of candidates. They get several kinds of teachers training from Nepal government. But the result of community school is far behind compared to private schools.
Community School Verses Private Schools
Private school's teacher general does not get opportunity for the training. In this sense they are less trained compared to community school's teachers. In almost all cases these private school's teachers are less paid than the government's schools' teachers.
The irony is that private schools result is far better than community schools. Hence it is the matter research. Why the government's billions of investments are in vain? It is now time to find out the reason. It is not same in all cases. There are very few community schools doing good result in the country.
The other schools must learn lesson for such schools.
At last, but not the least we would like to express very best wishes for all the candidates of TSC Nepal job. Our sincere wish is for the TSC Primary Level Exam Result waiting candidates.