Here is TSC Nepal Open Competition Exam Center Notice. So candidates can download TSC Nepal Open Competition Exam Center Notice from here.
It is all about the online teaching license notice. Go through it properly for the detail information.
IN This Article
TSC Nepal all level Questions
Primary Level Model Questions

TSC Nepal Open Competition Exam Center Notice
Thousands of people were waiting for the exam center. Now no more they have to wait for the exam center notice. It is now public. Hence we suggest all the teacher service commission candidates to download their related exam centers.
Online Application Form
All level teacher service commission Nepal application forms are online now. Hence you can now submit the job application form via this article. Just follow the official link of TSC Nepal for the online form.
The DV lottery for 2020 online application starts from first week of October 2018. Hence be well prepared for it.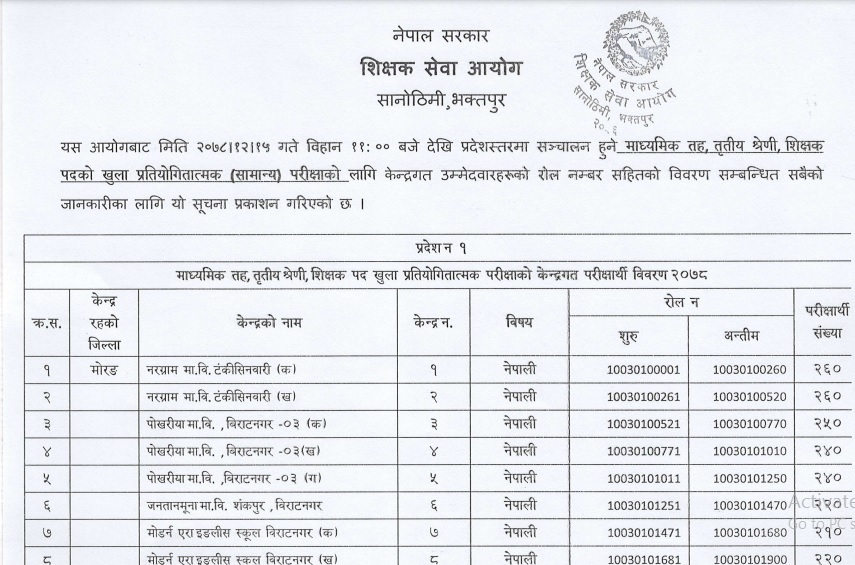 ---
---
It is a big issue among all TSC candidates. So to address it here we have few tips to write long question answer. We hope that everyone can do better if you just follow the tips given here.
TSC Nepal Objective Questions Collection
As you know that there are both objective and subjective questions in teacher service commission Nepal exam. So here we have collection of objective questions useful for all level.
TSC Nepal Secondary Level Exam Center Notice
This time teacher service commission has announced the job vacancy in the regional level. That is secondary and lower secondary level candidates have to compete in the regional level competition.
These regions are the then development regions, like Eastern development region, central development region etc. But now the country is in federal system. So no more there is political division of development regions.
Primary Level TSC Nepal Exam Centers
Primary level teacher candidates are competing in district level competition. So the primary level teachers posting will be in the concerned district only. They do not have to go away from their district for the job.
TSC Nepal is planning to conduct the exam not in the home center. It means if you have filled the exam form for Kaski district your exam will not be in Kaski district. But it is not the final decision. You have to wait for the TSC Nepal exam center notice.
Lower Secondary Level Exam Centers
In this advertisement teacher service commission Nepal has called the application from all five development regions. Hence TSC is working to conduct the exams in all five development regions at the same time.
So far gbsnote.com team learns from the teacher service commission Nepal it is planning to finalize the exam center very soon. Hence we suggest all the TSC Nepal candidates to remain in touch with us for the exam center notice.