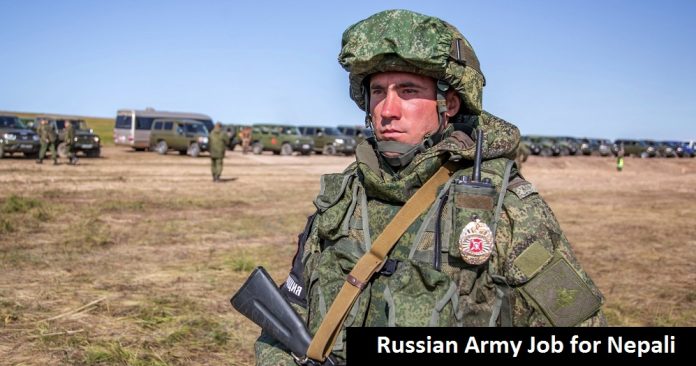 Here we provide the steps to join Russian Army Job for Nepali. Russian armed force accepts foreigners of any country in their armed force.
How to Join Russian Army?
Foreigners of any country in the world fulfilling the following norms can join Russian army. So go through the minimum requirements of Russian army properly.
Requirements
Person willing to join Russian army requires the following
Education
Professional training
Physical Training
Passport
Since 2015 people from any country in the world can join Russian army. So it is not necessary to have Russian passport to join armed force in contract.
Age
In order to be the Russian army you must be between 18 – 30 years age.
Gender
Russian army welcomes both men and women in their armed force. However the female armies need not to go in the battle field. These female armed force works in headquarter office or serves as nurse in army force.
Learn More About: French Army Job for Nepalese
But it is very interesting that all the female armies must complete all the training, shooting and other war tactics as male army.
Language
It is compulsory that you must have fluent Russian language. They take this issue seriously hence you must prepare well for the language test. So during the selection this language matter a lot for your selection.
Russian Citizenship
If you are willing to take Russian citizenship it is up to you. After serving 3 years in Russian army you are eligible for the Russian citizenship.
Contract
You have five years contract period in Russian army. Similarly you and your family will have health insurance. Every soldier has health insurance in Russia.
What Rank Can I Reach?
Foreigners will serve on corporals, sergeants and sergeant-majors. But in all honesty you will never become general or admiral in Russian army.
Salary
The salary of Russian army begins from 30000 rubles. It is approximately $480. But it depends on the region where you serve.
How to apply the Job?
In order to join the Russian army first of all you have to go to Russia in visit visa. Now after reaching to Russia visit an enlistment office in any Russian city.
If your documents and paper works are good and you do not have any legal issue back in your country you will sign a contract.
Then after you have to face the medical exam and pass the psychological test. Finally after completing these all phases you will be sent to the best suited unit looking at your skill and qualification.
Russian Army Job for Nepali
Under the plan posted in the official ministry's website in 2010, foreigners without dual citizenship can sign the five year contract in the armed force job. At the same time after three years the applicant is eligible to take the Russian citizenship.
For More Details See: Russian Army Official Page
Requirements for Russian Army
According to the amended law any foreign individual aged between18-30 can join Russian army. The candidates must have good command of Russian language.
Similarly the applicant must have clean record. So people from any country fulfilling these conditions can join Russian army.