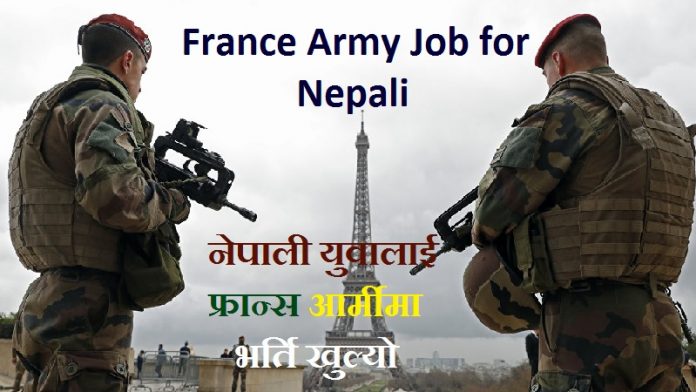 There is great opportunity for Nepali in France Army Job. Many Nepali youths are interested in France Army Job.
200 Vacancies in French Army
No French or English language. You can deal in Nepali language.


Criteria for French Army Job
Education: No Criteria for Education
Physical Creteria
Age: 18 – 35 years
Height: 5 ft 3 inch
Weight: 50 Kg
BMI: 20- 30
Tattoo: No big and offensive tattoo
Documentation Criteria
Valid machine readable passport with European country visa. Similarly you must have birth certificate.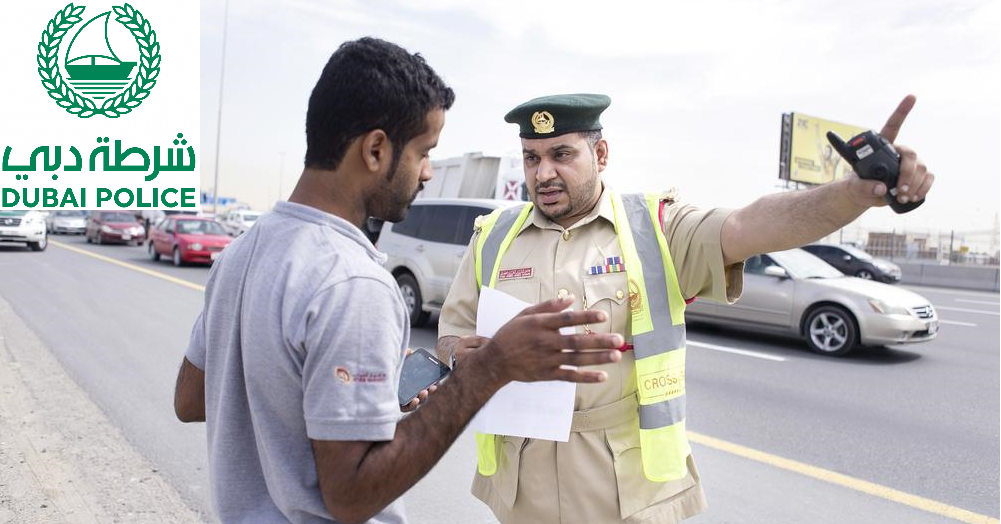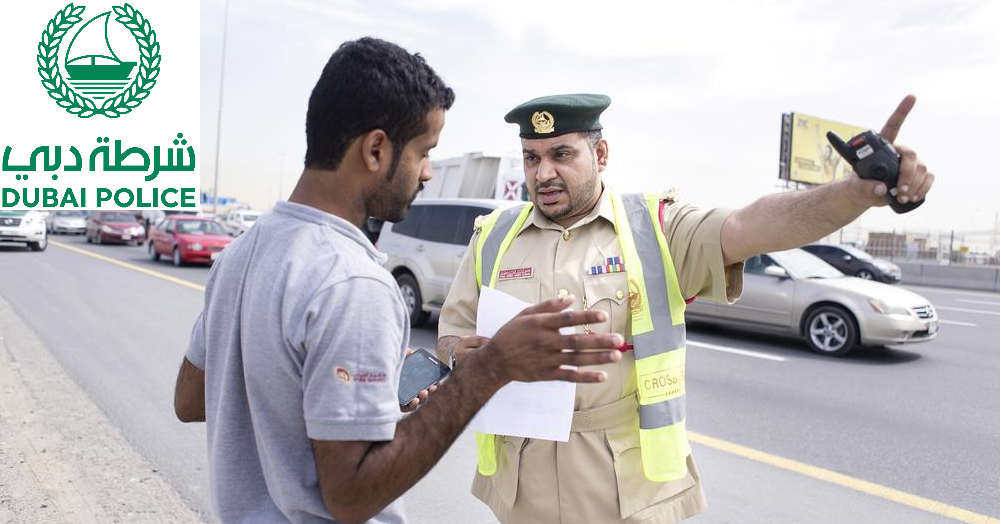 BENEFITS for French Army
4 to 5 weeks yearly leave.

Subsidized medical and dental fees

Driving license for light vehicle.

Professional learning and development benefits for the interested people.

Retirement Funds i.e. provident fund at the end of the service.

Permanent Resident Card after 5 years' service.
So here we provide the detail required for the selection of French Army Job.
Selection process begins when you reach to France. However you can see the official website given below for further information.
But due to corona virus now the application is made online. So you have to fill this form and send it to the given email address. The recruitment team will invite you for the selection process.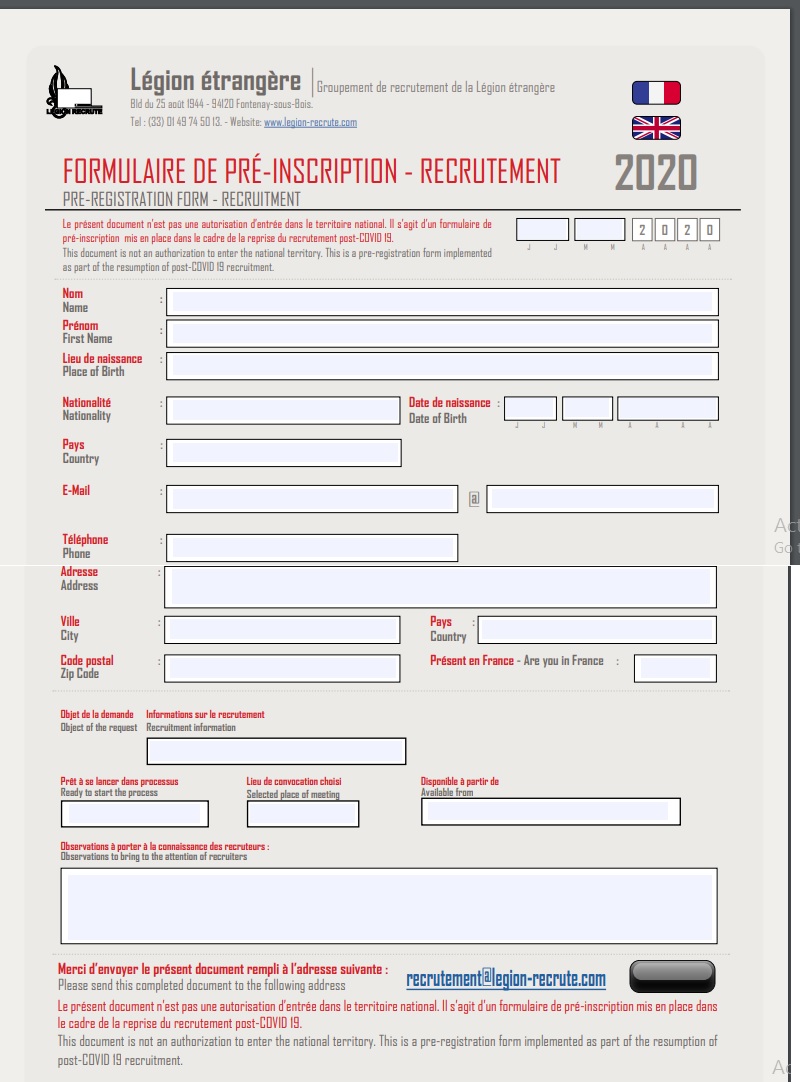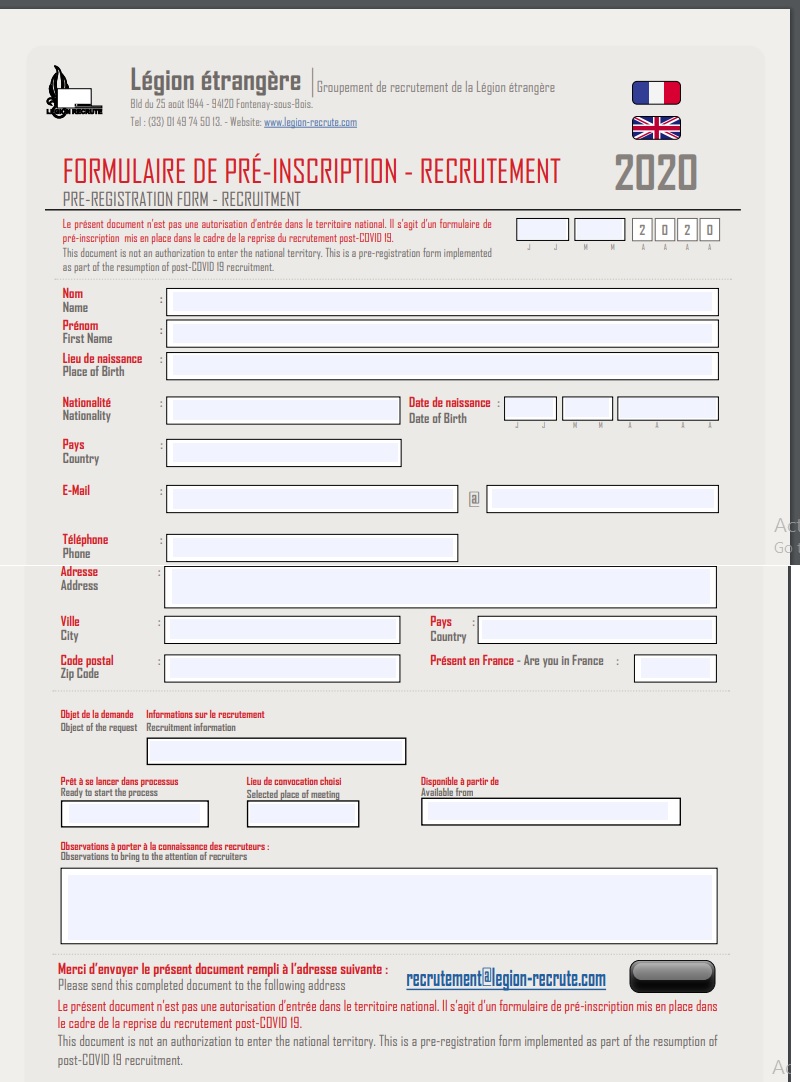 This is not the official website for the french army application. It is only the information page. Here we provide the information for French Army job.
Eligibility for France Army Job
The selection process of France Army Job is quite flexible as compared to British and Indian army.
So, if you are not qualified for British army, Singapore police or Indian army still there is chance for you to join French army.
Following are the basic requirements to join French Army Job.
Your age must be below 35 years.
You must not be involved in any criminal activities.
Married can also apply for French army job.
All the Selection Process Begins in France itself so first get Visa for France
State Government DV 2021 Application Notice
This year DV lottery Online application begins from the 2nd of October 2019. The detail notice of state government is given below.
For More Details See the Official Website


Steps for the French Army Job Application
There are no any official agents for French army job in Nepal. So if somebody asks for money for the job application it may be fraud.
So you have to first reach France for the selection process.
Basically it is the chance for the people living in France.
You have to face several steps interview for the visa. Finally when you get visa for France you will be kept in a camp during the selection process.
In the selection period you will get lodging and fooding from France government.
Benefits of France Army Job
When you serve in French army for 5 years we will be eligible for the application of permanent resident visa.
There are many Nepalese living in France after completing the French army job.
We have discussed in length in our previous article related to France army. So for more details you can refer that article.
The Official Page for French Army Application
Similarly if you still have some confusion please leave your queries in the comment box below. We expert team will try to solve it as soon as possible.
It is easy to join France army. You have to make for France visa as the first step.
It is not the official website for the french army job application. Here we give the required information about the foreign legion army application.
There is no other ways to join the French army. So we want to make you clear that you cannot apply for the army job from the French embassy.