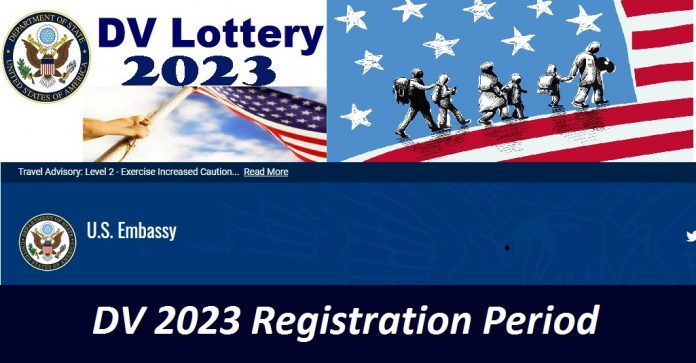 EDV 2023 online application is open. This DV 2023 Registration Period last for five weeks. DV lottery 2023 ends by the second week of November 2021.
Complete your online dv lottery form from this page. It is simple to fill the dv lottery online form. It is not necessary to take the help of the agents for the online application.
The state government also suggests not taking the assist from other while filling the online form.
Find Out if you are Eligible
If you are eligible for green card fill I 485 form. Submit your supportive documents. Finally USCIS will review your document for the decision.
DV 2023 Registration Period
Diversity visa lottery is the easiest way to get permanent resident card in America. Nearly 50000 people get dv lottery every year. This might be the last chance for the Nepali citizens. Hence do not miss this opportunity.
Will there be dv lottery 2023?
DV Lottery 2023 is open now. Hence collect the entire required document for online application. Since last few years the valid passport is mandatory for the main applicant. So, if you do not have passport apply for the passport.
You can apply for the machine readable passport from here. Fill this online form and submit it. It takes nearly two weeks to get the MRP in Nepal. If you are in abroad still you can apply for the passport.
When can I apply for Green Card 2023?
Green card lottery known as DV lottery begins from the second week of October every year. This online application remains open for 5 weeks. So, within this period you can apply for the green card 2023.
Which countries are eligible for DV Lottery 2023?
There are more than one hundred countries eligible for the dv lottery. We have separate article about it. So if you want to learn more about it please check our previous articles.
How to Apply EDV 2023?
Are you new for the dv lottery? OK, no matter here we provide step by step process for online dv lottery application. Just follow these steps to submit dv lottery online form.
Online Application Steps
Go to www.dvprogram.state.gov
Give the family details carefully.
Supply the correct size dv photograph.
Once check the details
Finally submit the online dv lottery form.
Correct Size DV Lottery Photo
Diversity visa lottery needs 600 by 600 pixels size photograph. Similarly, the photograph must occupy more than 60 percent by the head. Beside this you cannot use ornaments or hats. But you can use your own traditional customs.