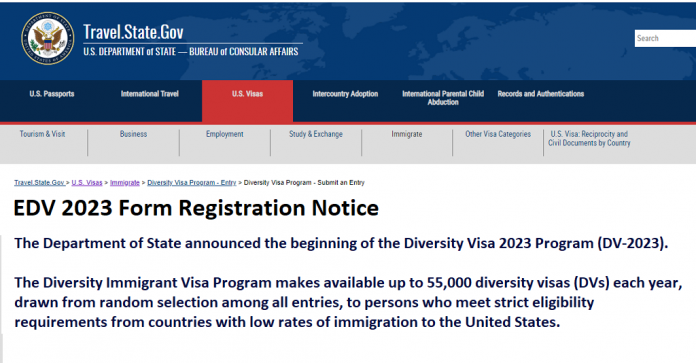 Today we are here with EDV 2023 Form Registration Notice. Hence all the dv lottery interested candidates can fill the online application from here.
Complete the dv lottery 2023 online form from here. It is easy to complete this online application form. so, to complete this online form read the instructions properly.
Things to Remember
You must be careful while filling the online dv lottery form. a small error will make your application form disqualified. Therefore, read this instruction before starting to fill the dv lottery form.
Is EDV 2023 Open?
Yes, diversity visa lottery application is open from the first week of October 2021. The notice is at the end of this article. We have attached the American embassy Kathmandu notice at the bottom of this article.
When can I apply for the green card lottery 2023?
The dv lottery application period is about five weeks. It starts from the early second week or the end of the first week of October every year. There is no any private company to collect dv lottery application form.
EDV 2023 Form Registration Notice
So, never run after such fraud agents in the market. Instead of this remain with us for fresh and latest dv lottery notices.
Will there be dv lottery 2024?
EDV 2023 might be the last chance for Nepali citizens to fill dv lottery form. hence it is not sure either there will be dv lottery 2024 or not for Nepali. Therefore, we suggest all the eligible candidates to submit the online EDV 2023 form in time.
Which countries are eligible for DV Lottery 2023?
Nepal is eligible for dv lottery 2023. Beside Nepal there are so many other countries eligible for diversity visa lottery. So, to find all the eligible countries check our previous articles.
Which country are not eligible for DV Lottery 2023?
More than 100 countries from the world are eligible for dv lottery. So, it is not wise to present all the non-eligible nations in this page. The list of eligible and non-eligible countries is available in the official page of state government.
Which countries are not eligible for DV Lottery 2024?
It is yet to finalize the list of eligible nations for 2024. Hence it will be too early to mention about diversity visa lottery 2024. We will update this article for dv 2024 in the days to come. Till then remain with us for all kinds of dv lottery information.
How can I get EDV 2022 result?
EDV 2022 winners name list is available in gbsnote.com. so, you can easily check the name list of dv winners with their address. It is not necessary to enter other details while getting dv result from this page.
When can I check my DV Lottery 2023?
Online EDV 2023 will be available from the first week of May 2022. Here you have to enter your family name and confirmation number. But if you forgot your confirmation number still you can check the dv result. So, for this you have to tap the button forget confirmation number in the dv result page.
How do I register my DV Lottery 2023?
Online EDV 2023 form is open now. So, you can fill the dv form yourself. It is not necessary to take help from the agent. The dv lottery unit also does not suggest you guys to fill the dv form with the assistance of agents.
It is very easy to fill online dv form yourself. So, for this you need internet facility and digital camera. If you have smart phone, then it will be enough to take photo.
You have to use white background in the dv lottery photographs. Similarly, do not use ornaments or hats in this photo.
Step by step dv lottery online application is given in our previous articles. Hence if you are in confusion please check our previous articles.