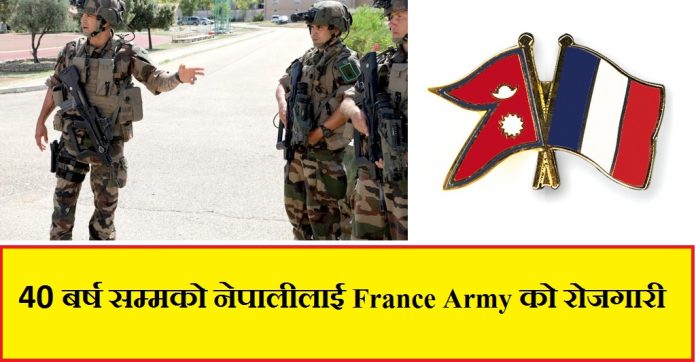 2022 French Army Job is now open. So the interested Nepali candidates can apply for the vacant post for the French army.
For all candidates coming outside the European Union, PCR negative report within 72 hours is compulsory.
Documents Required for French Army Job
You must have valid passport.
School degree is not required for the job.
You must know how to read and write in your mother tongue.
The candidates must be 18 to 40 years age.
You need to produce some supportive documents like driving licenses, birth certificate and family record like marriage certificate etc.
During the selection process all the accommodation, fooding and clothing is Free.


Physical Criteria
On the day you report to the selection desk you must declare that you are physically and mentally fit. So you are ready to take physical aptitude test.
Your body mass index must be 20 to 30.
Similarly you must be ready to take the sports tests.
MANDATORY ITEMS:
You need to bring the following items in the selection center in France.
One pair of running shoes.
There sets of under garments like underwear, T- shirts and socks.
Soap/ shampoo, shaving items, shower towels and slippers.
Maximum cash 50 French Frank.
2021 French Army Job
French army has one separate unite of foreigners in their armed force. This is called foreign legion. Hence the interested Nepali youth below 40 years of age can apply for the job.
Initially the candidates have to reach France and start the selection process but now due to covid 19 pandemic all the process is via online method.
You have to send the online form at first to France. Looking at your details if the selections unite feels that you are eligible for the French army then they will call you to France for further selection process. So when you are called by the selection team there will be no problem of the visa.
How to fill the online Form for French Army?
Visit the official page of French Foreign Legion and complete the online form.
France Army Job for Nepali
Currently hundreds of Nepali youths are working as French army. The salary and benefits are attractive in this job. The individual willing to take French citizenship can apply for the citizenship after your five years' service in French army.
Beside this if you want to join Brunei police see our previous article. We have detail procedure to join Brunei police job.
Qatar Police Job for Nepali
Similarly people are also interested on Qatar Police job. Nepali youths are eligible to Join Qatar Police Job so for this please check our previous article in the topic Qatar Police Job.