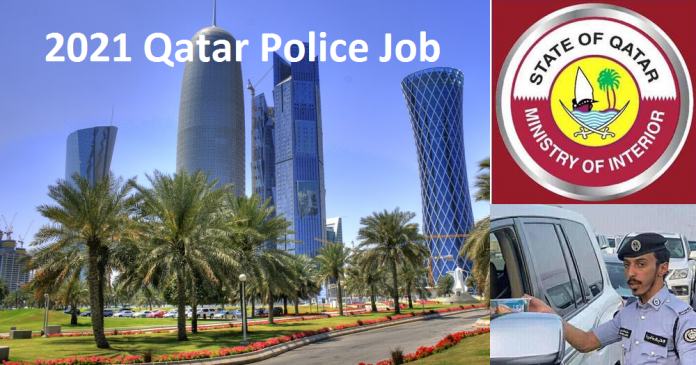 Here is 2021 Qatar Police Job notice. The interior ministry of Qatar has announced the notice for 2021 Qatar Police Job.
2019 QP Job Announcement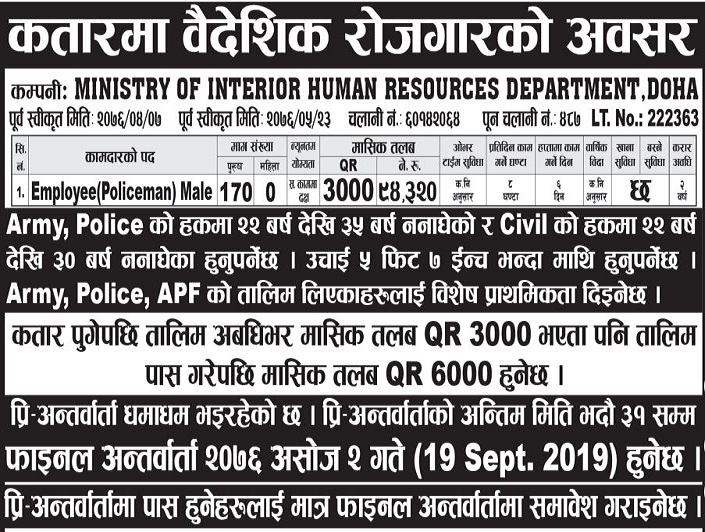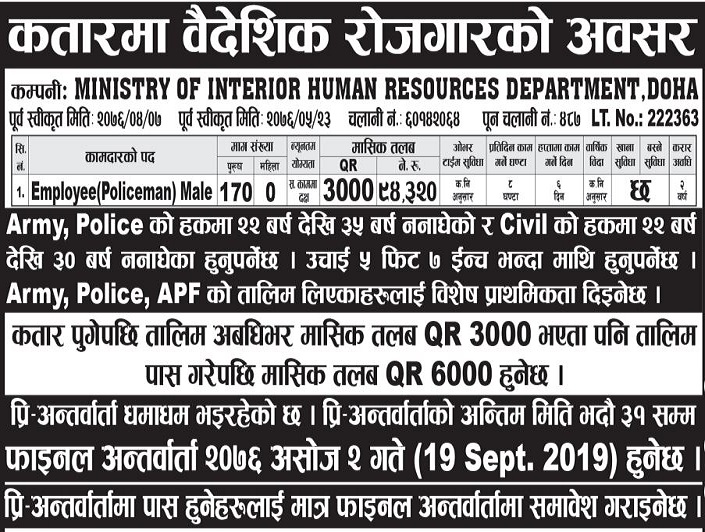 2021 Qatar Police Job
Police job is very much attractive in Qatar. The employee gets lucrative facilities with handsome salary. Qatar is a touristic hub. Hence it takes foreigners in its police force. The vacancy for 2021 is now open. Here we give the details about the Qatar Police Jobs.
While talking about the Nepali candidates the authorized people from Qatar comes to take the interview. The manpower companies in Nepal coordinate the interview and other processes.
One batch of Qatar Police from Nepal went in September 2019. In that batch 170 Nepalese joined the police force in Qatar.
Online Application in Qatar Police
You can submit online application form from India and Pakistan. People willing to join the police force from India and Pakistan can submit the online application form.
The short listed candidates will be called for the interview. Due to covid 19 this process is being used in several other jobs in Qatar.
Here are some sample but important question for the Qatar police vacancy. So go through these questions properly. Similarly you have to try the parallel question yourself. It is sample only it is not the authorized set of questions for your visa interview.
Salary and other Benefits
The initial salary for Nepali candidates is Qatari Riyal 3000. But as soon as you complete the training your salary will be doubled. Beside these there are many other facilities in this police job. Hence people are being crazy in this job.
MOI Qatar Security Force Job
The interior ministry of Qatar has announced the vacancy for police job. Qatar enrolls the foreigners in their police force. Keeping in mind for the upcoming world cup football 2022 Qatar is going to take multinationals people in their police force.
World Cup Football 2022 in Qatar
Qatar is the host for the 2022 world cup football. Hence to manage the crowed during this football fair Qatar needs big number of police force. So to fulfill this requirement Qatar has announced the police job for 2021.
Driver for Qatar Police
Beside the security personals the interior ministry has announced different vacancies in its security force. Details you can check in the official site of Qatar interior ministry.