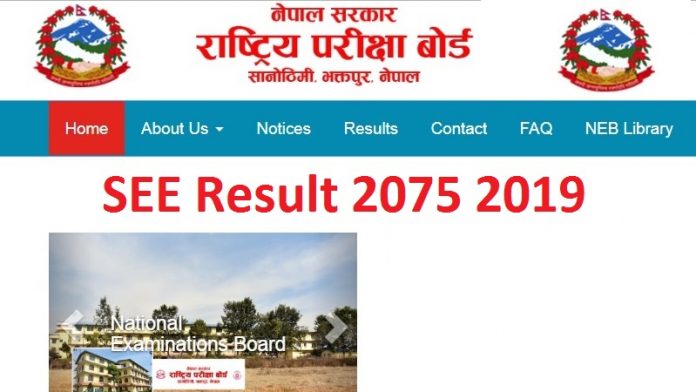 SEE Result 2075 2019 is out today. Hence you can check the SEE Result 2075 2019 from here.
SEE Result 2075 2019 Published
The office of the controller of examination has published the SEE result. Hence the secondary education examination candidates can check their online result from here. So here we provide the easy steps to online result.
How to Check the Online SEE Result?
Well there are several ways to check the online SEE result. Here we try to include all the possible methods to get the online secondary education exam result.
This time SEE exam result came little late as compared to last year. There are several reasons behind it. Firstly there is shortage of staffs in different offices due to civil servants adjustment in Federal, provincial and local level.
Secondly the province 2 exam was rescheduled due to leakage of questions before the exam. Perhaps due to these reasons the national examination board Nepal is not able to publish the result in usual time frame.
SEE 2075 Result in Nepal Telecom Web Page
Nepal telecom provides the SEE results in its separate web page. So the students and parents can easily get the online SEE exam result via this page. Hence to obtain the SEE result with grade sheet you have to log in the official web page of NTC.
www.see.ntc.net.np is the official page of NTC for the secondary education examination result.
How to Get the SEE Grade Sheet ?
As mentioned you have to log in the NTC SEE result page. Then just follow the normal instruction given there to get the online result with grade sheet.
Similarly if you are away from the internet network then at that moment use sms and IVR service of Nepal Telecom for the result.
Details of this is given in our previous articles of SEE result hence we suggest all to find the details from our previous articles.
As you know that there is huge rush in the result publication day. So in some cases the server of the result provider is not working.
In such case we are trying our level best to give the SEE result.
So for this purpose you have to leave the exam symbol number and date of birth in our SEE Result 2075 2076 Facebook page then very quickly we try to give you the result.