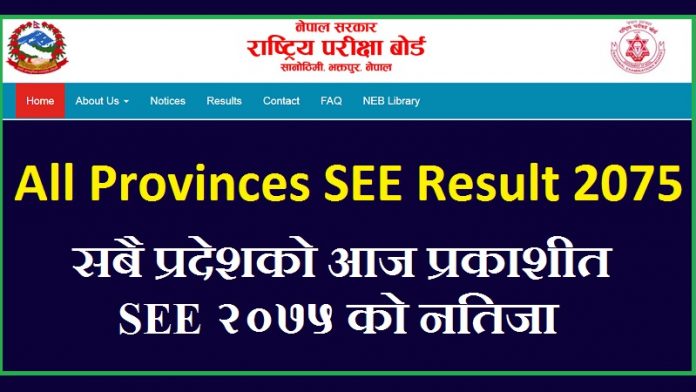 All Provinces SEE Result 2075 is out today. Hence the SEE candidates can check All Provinces SEE Result 2075 from here.
All Provinces SEE Result 2075
It is the first batch of SEE held in province level. This time it was supposed to conduct the entire secondary education exams SEE by province itself.
However the questions preparation and the result preparation are still in charge of central government.
Well here are the steps to get online SEE exam result 2075. Recently the office of the controller of examination has published the secondary education exam result. So we give the steps to check the online result.
SEE the then SLC Result in Gorkhapatra
It was a time in the past when students have to wait even a week after the result publication to get their result. It is because at that time the result used to come in the Gorkhapatra National daily only.
The Gorkhapatra was not in easy access in remote areas. Hence even in the surrounding of main cities students have to wait couple of days for the result.
SEE Result in your Smart Phone
Now time has changed. There is sky rocketing development in the field of information and communication. People have smart mobile phone in their hand. Internet is gradually becoming the basic needs of the people in Nepal.
So in the same way Nepal government offices are being digitized day by day. As a result now days the national examination board does not publish the board exam results in printing media. Rather than this results are available via internet.
As mentioned above students can get the board exam result via different online resources. So in this connection there are several websites to give the online SEE results.
Similarly Nepal government ministry of education also gives the online result.
Therefore just logging in any of the either or private or government sites you can get the result. The examination controller office publishes the list of website giving the SEE result.
Hence as soon as the National Examination Board Nepal publish it we will make it up to date over here.
Finally we would like to announce that if you have any confusion about the secondary education exam result contact us. We will try to solve your problem by our experts' team as soon as possible.