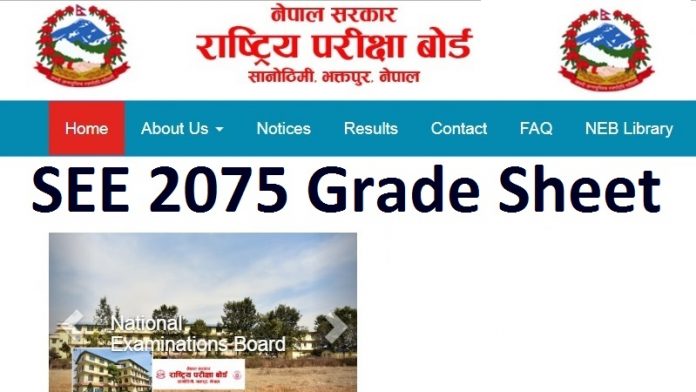 SEE 2075 Grade Sheet is almost ready. So the National Examination Board Nepal is ready to publish SEE 2075 Grade Sheet.
SEE 2075 Grade Sheet
Well here we provide the notice for the SEE exam 2075 result with grade sheet. Hence we would like to suggest all the visitors to go through the article till the end.
This year secondary education examination result is almost ready to publish.
Therefore be in touch with us for the timely information about SEE examination result.
How to Download the SEE Grade Sheet?
Well there are several ways to get the online SEE exam result. Hence we give you all the details about the process to obtain the online secondary education exam result.
In the past it was called school leaving certificate exam SLC. Though the name is changed rest of all the things are as usual.
How to Check SEE exam 2075 Result?
You can get the online SEE 2075 result in the official website of national examination board Nepal. So for this you have to log in www.neb.gov.np for the online result.
The ministry of education gives the SEE online result in its web portal. Hence go to the official site of Nepal government and get your online result.
Steps for Online SEE exam Result
Go to the official site of Nepal government.
Enter your symbol number and date of birth in the dialogue box.
Finally submit the details for the online result.
SEE Online Result in Nepal Telecom Site
Nepal Telecom also provides the online SEE result both in its website as well as IVR service. Hence if the Nepal government sites are busy at that moment you can check the online SEE result via www.see.ntc.net.np.
The details about the sms and IVR service is in our previous articles hence if you need more ideas about it check our previous articles about SEE exam result.
Finally we would like to express our best wishes to all the candidates for SEE 2075 Grade Sheet.