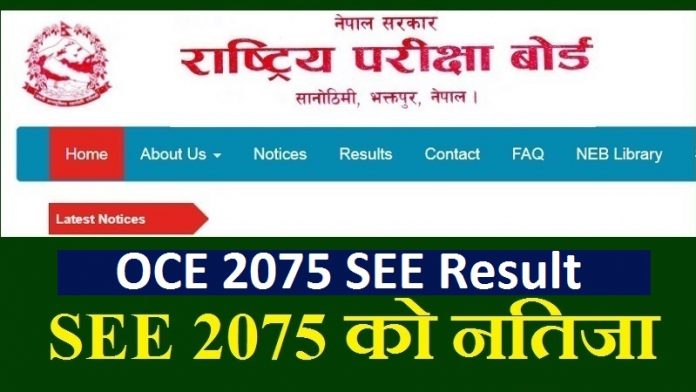 OCE 2075 SEE Result is almost ready to publish. Hence the national examination board Nepal is going to publish OCE 2075 SEE Result this week.
OCE 2075 SEE Result, How to Check SEE Result?
This year too office of the controller of examination is going to publish the SEE result in its normal schedule. So we are going to provide the step by step process to get online SEE result.
The office of the controller of examination is going to publish the online SEE 2075 result by this week. Hence we give the details how the SEE online result from here.
Basically you can check the online SEE exam result in national examination board Nepal website. The official website of NEB Nepal is www.neb.gov.np.
NTC SMS and IVR Service for SEE Result
Nepal Telecom provides SEE online result by sms and IVR Service. So follow the given steps for the see online result. This facility is useful for the mobile phone user who has not got the internet service.
SMS Service for SEE Result
First of go to your message box in your mobile phone
Type SEE space and type exam symbol number and send it to 1600.
SEE Result by IVR Service
Well for SEE result by IVR you have to dial 1600 from PSTN, CDMA or GSM mobile phone. Then you have to follow the instructions given over there.
So in such ways students can get the online secondary education exam the then SLC Examination.
At the same time if you have still any confusion about how to check the online SEE result then leave you problems in the comment box below. Our expert team will try to respond it as soon as possible.
The next challenge for the parents as well as students is to find the appropriate faculty for further study. We suggest that none of the faculty is bad. The only thing is that whatever faculty you choose you must do best in that faculty.
Like just choosing science in grade 11 and just getting D is not good. It is better to choose management faculty and get A or B grade.
Therefore we want to suggest all the parents not to give pressure to your children for faculty selection. However you can guide them to make them understood about the features of all faculties.
What to Study in Class 11???
But finally let the students choose the faculty which they are interested for.
Just now you have enough time to think about class 11 studies. So use this time properly. If you need any kind of counseling about your further study consult your seniors or teachers. But it will be late if you just try to think about it soon after the SEE result publication.
Finally we would like to express our best wishes to all the SEE candidates of the year 2075. Wish you all very best of luck.