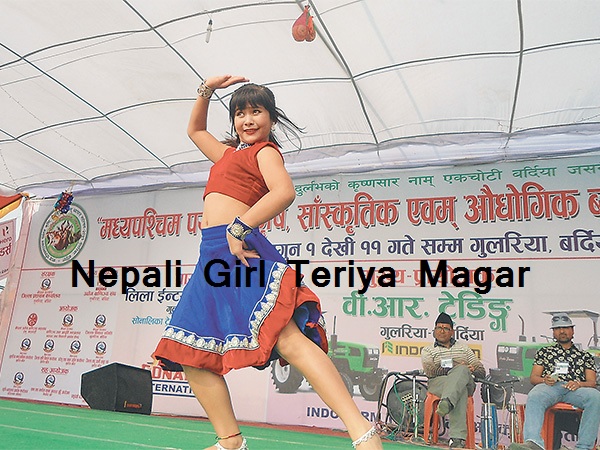 Who is Nepali girl Teriya Magar?

Teriya Fouja Magar a competitive dancer from Rudrapur, Rupandehi district, Nepal. Magar came into the public spotlight during her performances on the dance competition television series Dance India Dance Li'l Masters which she won on 21 June 2014.
So on 29 June 2014, Nepali girl Teriya Magar was honourned with the title "Lumbini peace ambassador" by the Kapilvastu Day Campaign. The award was presented by the Deputy Prime Minister and Minister for Local Development, Prakash Man Singh.
Nepali Girl Teriya Magar
Born
Rupandehi
Residence
Rudrapur, Nepal
Nationality
Nepali
Occupation
Dancer/Student
Years active
2014-present
Known for
Winning Dance India Dance Li'l Masters "Jhalak Dikhhla Jaa"
Net worth
Loading…
Height
5'4″
Parent(s)
Anita Phounja Magar
Vijay Phounja Magar
Nepali girl Teriya Magar Won 'Jhalak Dikhhla Jaa' title
A Nepali girl has won the title of a famous Indian dance realilty show 'Jhalak Dikhhla Jaa' Season 9.
Teriya Magar of Rudrapur VDC, Rupandehi, has grabbed the coveted title, defeating the other two contestants – Salman Yusuff Khan and Shantanu Maheshwari.
With the victory, Magar will receive a cash prize of  INR 3 million along with a Renault brand car.
Earlier in 2014, Teriya had won the Dance India Dance Li'l Masters and had been putting in brilliant performances in the show since the last few weeks.
According to Bollywood Life, an online portal, she had a tough competition from Salman Yusuff Khan and Shantanu Maheshwari but won the competition through voting.
The show will be broadcast on Colors TV channel on Saturday evening. Recently, a press conference had been organized, calling for votes for her.
However, it is yet to be known how many votes she secured.
Teriya is a student of St Lawrence High School, Vashi and has won numerous awards.
But, her competitor Salman is the first runner-up while Shantanu is the second one.
Similarly, Shantanu is a world class hip-hop dancer while Salman is a famous choreographer.
Hence the winner was adjudged by Farah Khan, Salman Khan and Jacqueline Fernandez.
The above news is from various online sources.