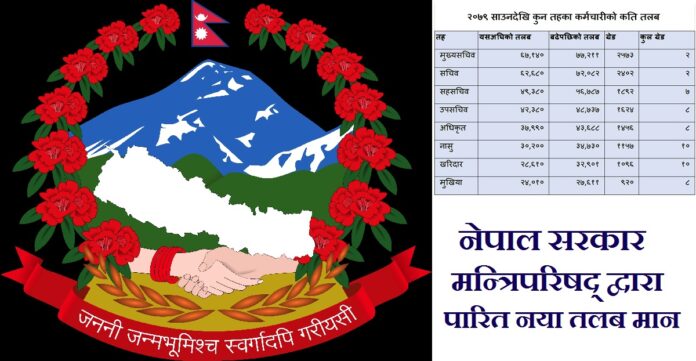 Nepal Government Budget 2079 2080 is out. Here we discuss on important features of the annual budget.
Civil Servant New Salary Scale
Nepal government Cabinet has approved new salary scale. Here we have the details information about new salary scale.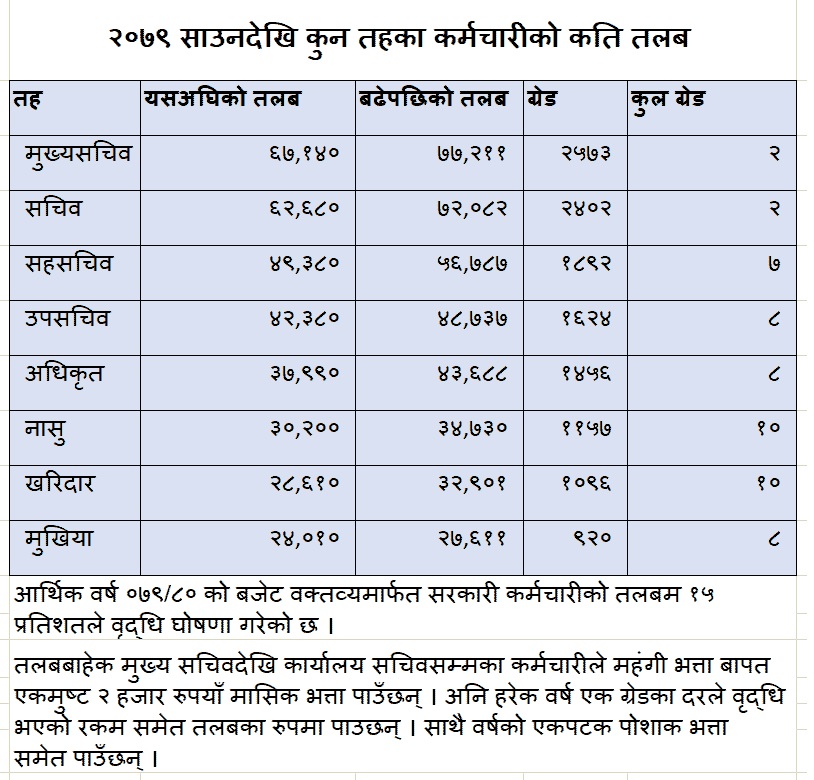 Nepal Government Budget 2079 2080
What are the special features of the annual budget of Nepal government? We are going to discuss on it. Beside this we talk about the income tax threshold for the natural person and married couple.
Income Tax Rate for fiscal Year 2079/080
| | |
| --- | --- |
| Annual Income of Civil Servant | Income Tax Rate (FY 2079/80) |
| Up to Rs 6,00,000 | 1% |
| Additional Rs 1,00,000 | 10% |
| Additional Rs 2,00,000 | 20% |
| Annual Income of Civil Servant | 30% |
High Light of Budget
People are interested on budget. Hence we are providing budget high lights in this article.
1. The annual budget for strategic road, Rs.7 billion.
2. Now you can get old age allowance in 68 years. It was 70 years in the past.
3. Government for fast track road for connecting Chitwan with Kathmandu, Butwal and Pokhara.
4. Total 6.53 billion for the rail way department for railway construction.
5. Government aims to be reduced import by 20 percent next year and trade balance in 5 years.
6. 55.97 billion budget for the Ministry of Agriculture and Livestock Development.
7. Nepal government is planning for farmers Pension Scheme. So, this will encourage youths for farming.
8. Similarly, 3 billion for the construction of industrial infrastructure in all seven provinces.
9. Industries that consume more than Rs 100 million per month are exempted from tariffs.
10. Supreme court has to think for Nijgad international airport.
11. Finally, the government has made arrangements for free kidney transplants for poor people.
Details on Budget
Here we have more important points of the government budget.
Nepal government has allocated 70.05 billion budget for education sector.
2.46 billion Budget to the Ministry of Youth and Sports.
Similarly 13 billion allocation in forest and environment sector.
Government allocated Rs 9.38 billion for tourism sector.
6 billion 70 million budget has been allocated for postal highway.
Government will manage concessional loans to returnees from foreign employment.
Nepal government will try to increase employment by 30 percent annually.
The economic growth rate is expected to be 5.8 percent.
69.38 billion Budget for health sectors.
LPG subsidy will be removed; the price of cooking gas will increase. Government is trying to reduce petroulium consumption.
Key Points of Budget 2079/080
Here are some key points of budget.
22. Lifelong monthly life increase for Asian and Olympic medalists.
23. Government will give 80 percent premium for agriculture insurance.
24. Nepal government will provide enough budget for Narayanghat road section.
25. Government announces support for construction of Gautam Buddha Stadium.
26. Announcement to start technical education in 12 hundred schools across the country.
27. The government will start road construct to link China.
28. Budget for safe housing for the extremely poor, dalit and endangered castes.
29. Government will accelerate the construction of East-West Railway Bardibas-Nijgadh section.
Important Points of Budget
30. Nepal Electricity Authority will call for IPO.
31. On the other hand online media will also get general welfare advertisement.
32. Nepal government will reduce the internet cost for the public.
33. Government will develop Marin of Sindhuli as a new city.
34. Insurance companies must invest a certain percentage of their profits in the infrastructure sector.
35. Total budget of 1.42 billion for the construction of all local level administrative buildings within two years.
36. Entrepreneurial housewife program will be conducted.
37. Budget announced five billion to Nagdhunga tunnel.
38. Government allocated 9.33 billion budget for Pushpalal Highway.
39. 1 billion budget for the expansion of the ring road.
40. Civil servant salary increased by percent.
41. Complete blind people will get A grade disability card.
42. Government will encourage employee in abroad for the IPO investment.
43. Government announces to operate Hetauda textile industry. It is closed now.
44. Local infrastructure department is not dismissed.
45. Income tax limit increased. The new exemption for married people is Rs 600,000.
46. The total budget for this fiscal year is Rs.1798.83 billion.