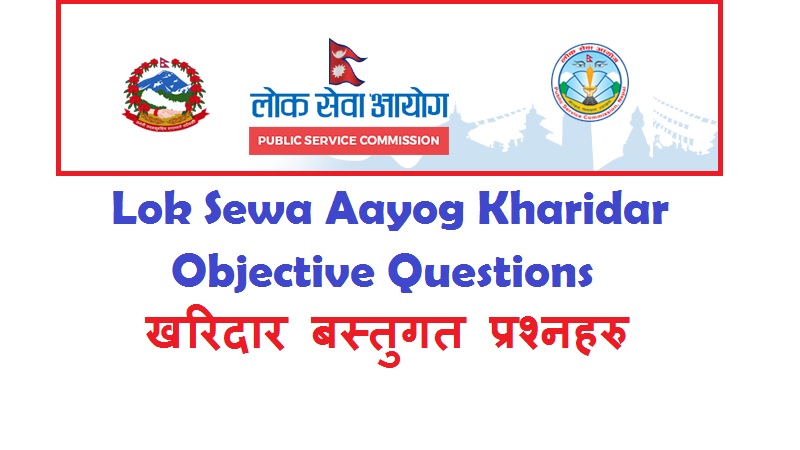 Here we publish Lok Sewa Aayog Kharidar objective questions. These Lok Sewa Aayog Kharidar objective questions are prepared by experienced experts.
We have been providing such materials for needy and helpless people. So if you see such items in social media please share it.
Here You Can Easily Downloads the Lok Sewa Aayog Questions

There is high demand of Lok Sewa job in Nepal. Kharidar is a post which can be applied after the then SLC exam passed. Recently it is called SEE exam.
You can find several series of Lok Sewa Aayog Kharidar Objective Questions. The most important thing of this site is all the materials are free of cost.
Tipantapan for Lok Sewa Aayog Kharidar Objective Questions
In this topic you can find the mixed bag collection of questions. Here is not boundary of area of subject so that it is named Tipantapan. In other sense it is combination of variety of questions.
Climate of Nepal
Nepal has diversified landscape. The highest mountain in the world i.e. Mount Everest is also in Nepal. So here the climate varies from plain to the mountain region.
You can find short information about the climate of Nepal over here. The climate varies mainly due to the altitude from the sea level.
Seasons in Nepal
This can be the next important topic for Kharidar exam. So here we have included the brief introduction about the seasons of Nepal. Basically there are six seasons in Nepal.
According to the present system of low Sewa Aayog the Kharidar exam consist of several subjects. So mathematics is also one of the important topics for Kharidar exam.
Therefore we have included some items of mathematics over here. Beside this if you have any quires about mathematics simply leave your question in the comment section below.
We will try to find the solution from the subject expert as soon as possible.
Read More;