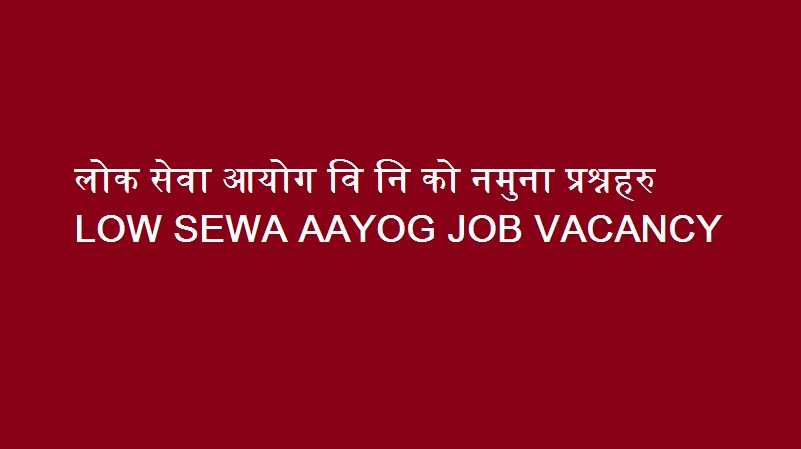 Lok sewa aayog job vacancy www psc gov np jobs
Lok sewa aayog has recently announced officer level vacancy. This announcement consists of both open and internal competition. Here we are going to include the lok sewa aayog job vacancy together with the model questions for school inspector.
This year lok sewa aayog job vacancy for non-technical third class officer consists of 179 posts. This includes the reserve seats for dalite, women, janajati and madeshi. The detail of the advertisement is included as follow.
Nepal Sarkar Rastriya Aanusandhan Ko Job Notice

The the curriculum and application form for Rastriya Anusandhan Job is given in the following link.
Lok Sewa Aayog Job Vacancy[ NTV Job]

These third class non-technical officers are asked from different department and ministry of Nepal government. Since last year lok sewa aayog job vacancy form can be filled online.
If you have internet facility at your home you can do it yourself. Just open the official site www.psc.gov.np and follow the instruction.
Lok sewa aayog jobs are permanent job of Nepal government. There are several facilities for government employee. So the competition in such jobs is fierce. Similarly the candidates for lok sewa job should pass to phases of written exams. The first is preliminary exam. Those who are able to pass this exam are eligible to attend the main exam of lok sewa aayog.
Read More:
Lok sewa aayog publishes its results of different jobs vacancy according to its annual calendar. You can check your result by here. We update all kinds of lok sewa aayog job vacancy result. Low sewa aayog is one of the organs of Nepal government to perform its task promptly. Though the number of applicants in each post of lok sewa aayog is very high till the date it is able to carry its duty very well. There is no question mark about the result of low sewa aayog. Also the candidates can check their total score.
You May Also Like: