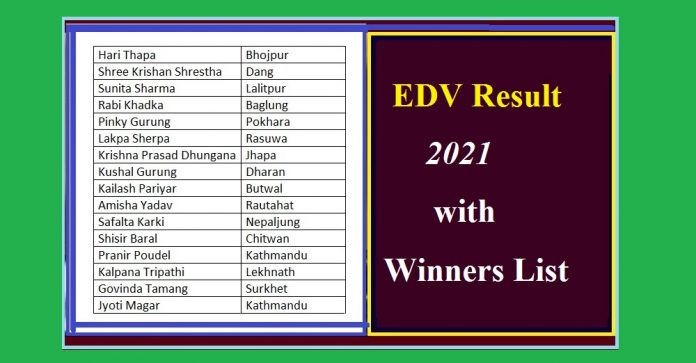 EDV Result 2021 DV Result 2022 is very much waited in Nepal. Diversity visa is the easiest way to get green card in America.
EDV Result 2021 DV Result 2022 with Winners Name List
All the countries in the world are not eligible for the DV Lottery program. But Nepal is eligible for this green card lottery well known as DV. It is very famous in Nepal. All most all the eligible people want to apply for the dv lottery in Nepal.
This year due to some new rules the number of dv lottery applicants might have decline compared to previous years.
New Rules from DV 2021
Most of the things are similar to the past years but the compulsory submission of valid passport number of the main applicant is new in DV 2021. The followings are the common items for the dv lottery.
600 X 600 pixels recent photograph.
The family details with spouse and children if any.
Valid MRP number.
What will happen if the Confirmation Number is lost?
It is wise to keep the confirmation number safe and secret. But in case if you have lost the confirmation number still you can check the online dv lottery result. Here are the step by step processes to get the online dv lottery result without confirmation number.
DV Program Result 2021
The state government was planning to publish the online EDV 2021 result by May 5 2020. But due to COVID 19 pandemic it has been postponed for June 6 2020.
First of all go to the official page to dv lottery.
www.dvlottery.state.gov is the official site of state government for the DV lottery.
There you can find a page for the dv lottery result.
In the corner there will be one option written confirmation number lost.
Tab on this icon and follow the instruction over there.
Here is the list of dv winners from Nepal. As you know well that the state government does not publish the list of dv winners it is our attempt to provide the name list of dv winners from Nepal. We are doing our best to collect the list of all the dv winners from Nepal.