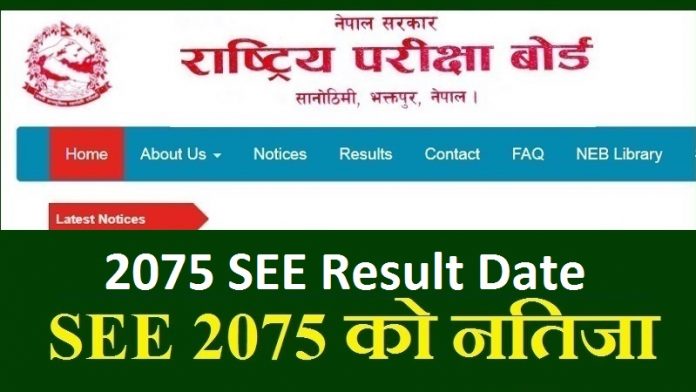 2075 SEE Result Date is generally the end of Jestha or first week of Asar. But this year 2075 SEE Result Date may goes little back.
2075 SEE Result Date; When Will SEE 2075 Result Publish?
Due to lack of staffs in the district level the then district education office the SEE result might go one or two weeks late. So it means the students may get the secondary education exam result by the second week of Asar only.
So to some extent it will affect the beginning of grade 11 classes. Therefore whenever the office of the controller of examination Bhaktapur publishes the SEE result we will notify you all via our social media pages.
All right, the SEE students can get their result together with grade sheet. Hence here we give the easy steps for the online SEE Grade Sheet.
Here are important questions for class 11 entrance exam. Use them for your entrance exam preparation.
First of all go to the official website of national examination board Nepal. There you have to enter the exam symbol number together with date of birth. Finally submit the details for the online result with grade sheet.
In the past there was no grading system. There was pass failed system. This pass fail system was a headache for the community school teachers.
But as soon as the government implemented the grading system there is no pass fail in the grade sheet. However, lower GPA is the obstacle to get seat in top colleges in Nepal.
Grade Improving Chance Exam
Students getting D or E grade in maximum two subjects can retake the chance exam. This chance exam will be soon as the SEE result.
Similarly the students have to take the chance exam in the same admission card. There will not be next application form for the chance exam.
Chance Exam 2076 Timetable
For the details you have to see the district level education offices of the respective districts.
Here we will attach the exam timetable for SEE chance exam.
Finally if you have any questions about SEE exam and its result send your questions to us. our expert team will try to reply as soon as possible.