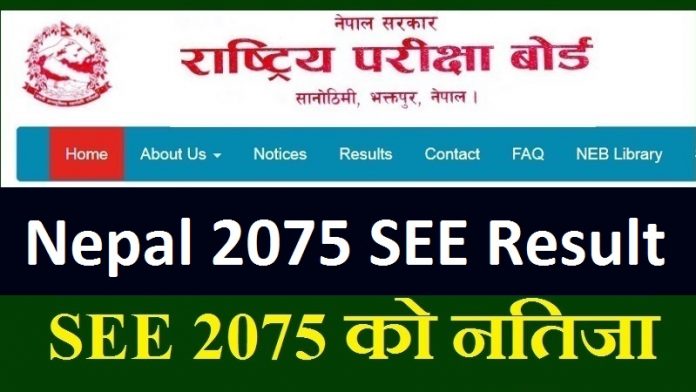 Nepal 2075 SEE Result is now ready to publish. So meeting of examination board is going on for Nepal 2075 SEE Result publication.
Nepal 2075 SEE Result Coming Soon
The office of the controller of examination is going to publish the SEE exam 2075 soon. Hence we give the step by step process to get the online Nepal 2075 SEE Result from here.
This year the SEE exam result is little late as compared to last year.
There are different ways to get the online secondary education exam result. So here discuss them one by one. First method for the online SEE exam result is various websites.
There are many governmental as well as private websites working for the online SEE exam result. The national examination board Nepal publishes the list just before the result publication.
We will update the list of web portals for online SEE result with grade sheet in this page. Therefore be in touch with us for the complete information about SEE result.
Well for this first of all log in to official website of national examination board Nepal i.e. NEB Nepal.
There you have to enter the exam symbol number and date of birth. So just in one click you will get the SEE exam grade sheet from here.
Soon after the SEE result the next burden for the parents is to find the better school or college for class 11 studies.
Here we have the list of top colleges in Nepal for grade 11 study. This may guide the parents for the school selection to their kids.
Every student has to face entrance exam to join class 11. On the top of this there is big pressure of students in reputed schools of Nepal. Hence to secure the seat in such schools students must have well prepared for the entrance exam.
Class 11 Entrance Exam Questions
In this collection we have questions for grade 11 entrance exam.  Basically we have prepared this collection for science stream students.
Hence those students will to join science stream in grade eleven will find it much helpful for the entrance exam.
Best Faculty for Class 11 Study?
None of the faculty is best for the students. It is up to students. Whatever you study does not matter. The only the thing is that you must do the best what you study.
Do your best whatever you study. Never give up. Keep on trying to do your best.
Finally wish you all the best for your upcoming SEE exam result.