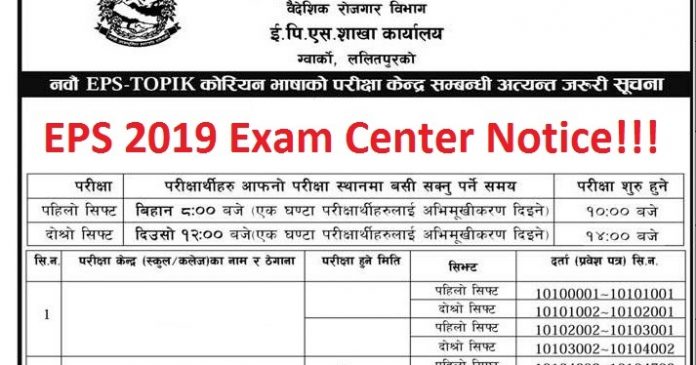 EPS 2019 Exam Center Notice in details. Here we give the EPS 2019 Exam Center Notice for June 8 exam.
Here are some questions for EPS TOPIK Nepal. So share it among your friends as well.
The EPS Topik 2019 Exam is on Jestha 25 and 26.
2019 EPS Korea exam is schedule for June 8 and 9 2019. So for this exam there will be 30 exam centers in Kathmandu, Pokhara and Lalitpur.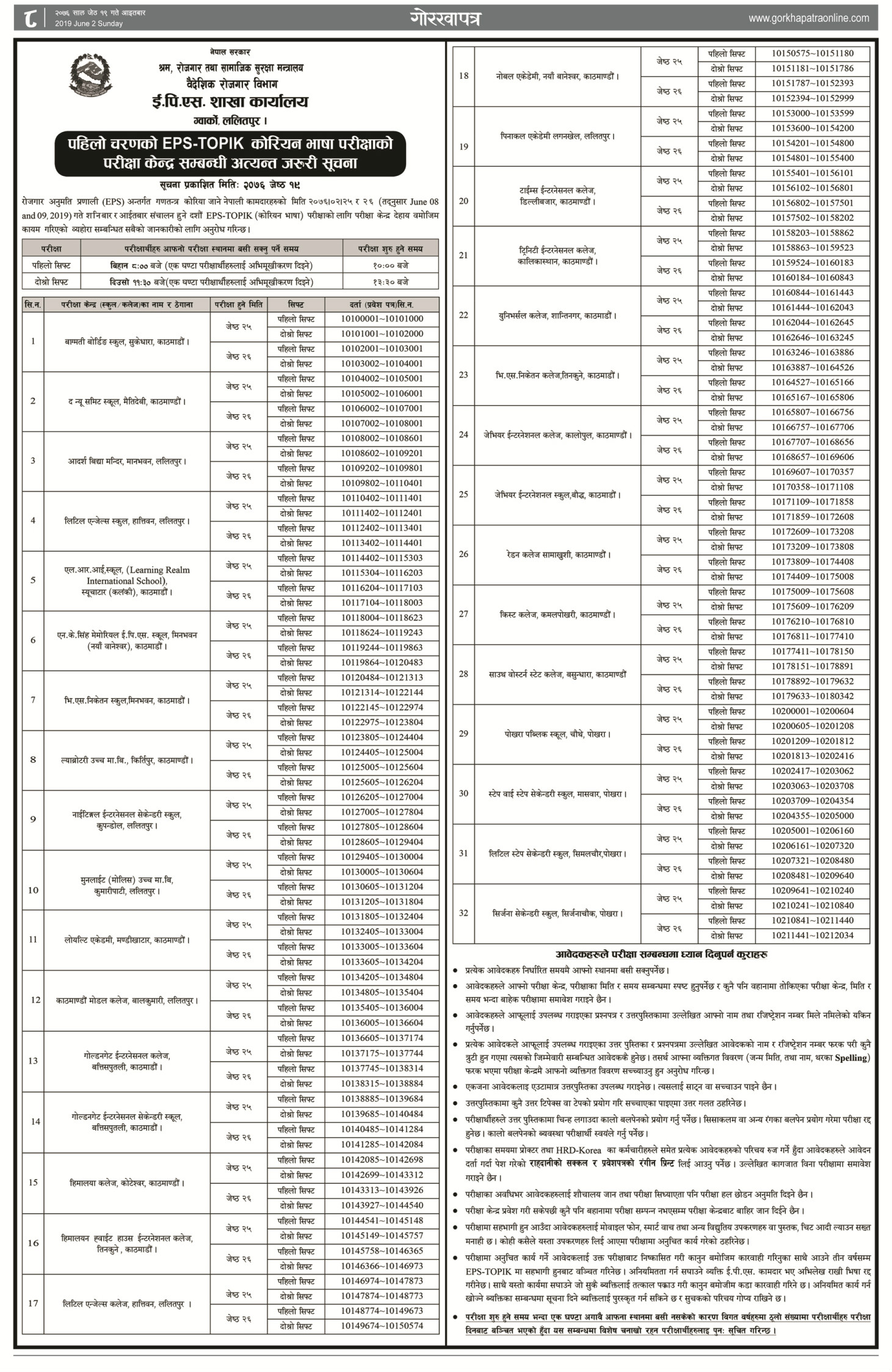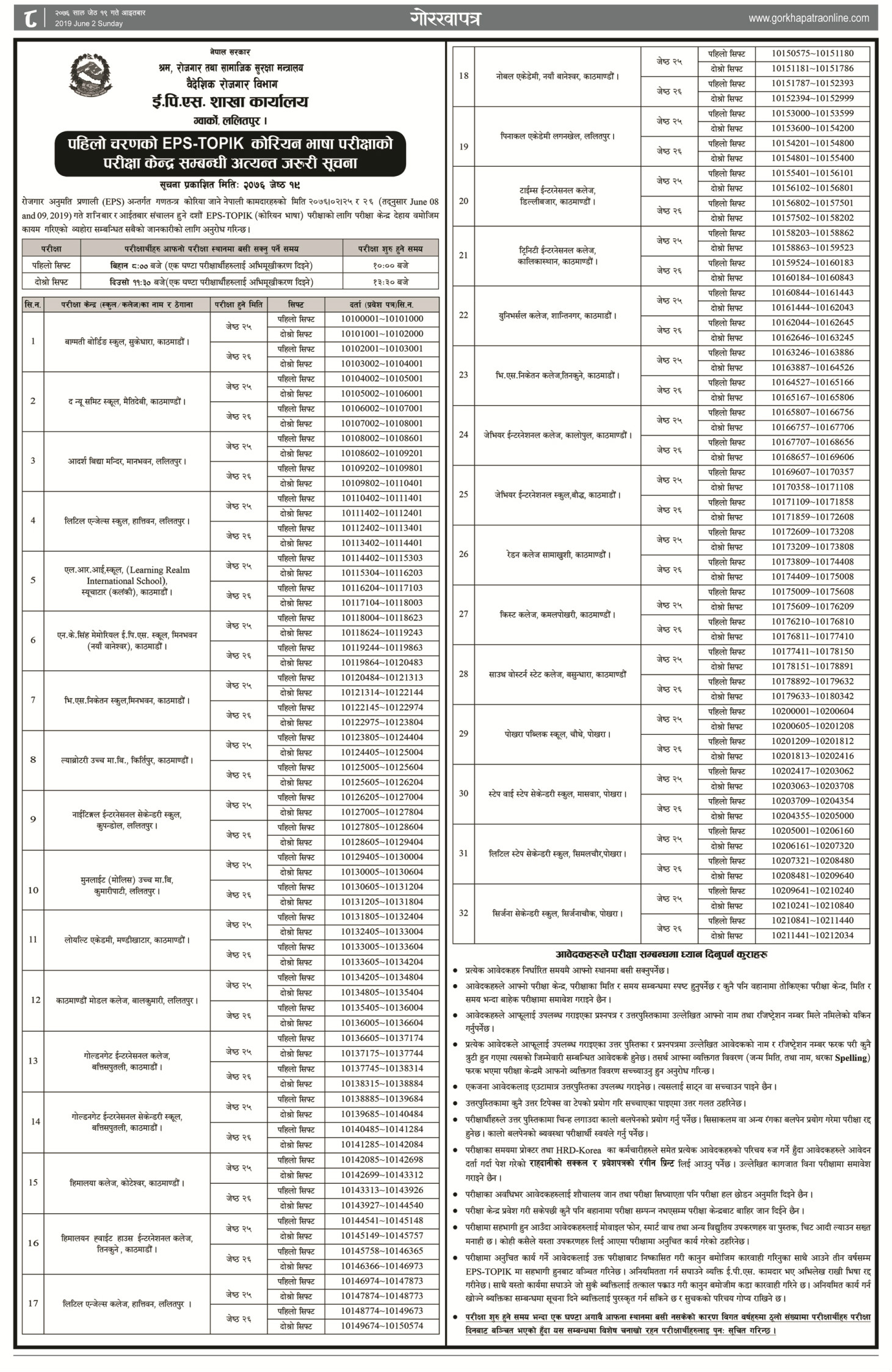 Hence the details of the exam center will come in this page. When Nepal government publishes the exam program we will keep it here.


Pokhara Centers for EPS 2019 Exam
According to the concerned authority nearly there will be seven exam centers for this EPS 2019 Exam. So just remain with us for all kinds of Korean Language exam test.
Therefore if you have any other question about EPS Korea exam leave your questions in the comment box below.
Kathmandu based Exam Centers for EPS Korea 2019 Examination
There are twenty three exam centers in Kathmandu for EPS 2019 exam. The complete exam program will come soon. As mentioned above we will attach the exam details as soon as Nepal government publishes it.
Lalitpur Exam Centers for EPS Exam 2019
The exam is on Saturday. Basically these exam centers for EPS exam are community schools. But the individual detail of the exam is yet to come. Be in touch with us for all kinds of information about EPS exam.
Similar to EPS now Japan is going to enroll nearly three lakh fifty thousand works from eleven countries. In this list Nepal is also going to send the skilled and semi-skilled workers in Japan. But for this you have to pass the JLPT 5 exam.
How to Learn JLPT Exam Course
We have several articles about JLPT exam. Hence we suggest the interested candidates to check our previous articles.
So if you are not able to pass EPS exam then try for JLPT exam. The workers under this category can earn more than two lakhs in a month.
Finally if you have any questions about abroad employment see our expert team. They are ready to provide help and support to you.