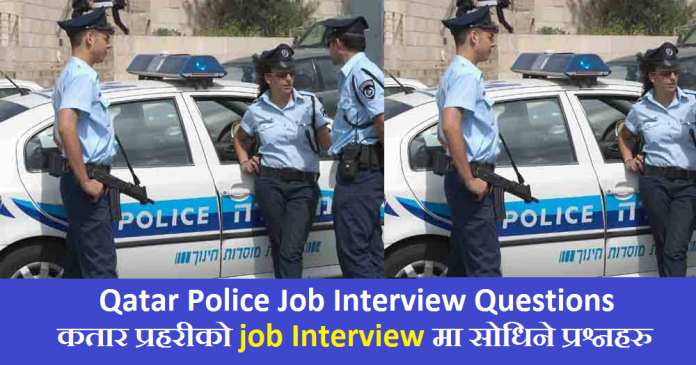 Here we have Qatar Police Job Interview Questions. If you are willing to join Qatar police job these questions help you a lot.
The government of Qatar is going to take Nepali in their police force. One team of Qatar government is already in Kathmandu. According to media the interview is withheld due to some technical problem.
So far we have learnt the manpower companies started the interview without pre information to Nepal government. But we hope that the problem will be solved and the interview for Qatar Police job will start soon.
Qatar Police Job Interview Questions
The interior ministry of Qatar has announced the police job vacancy for Nepali youths. The first lot of Nepali has joined Qatar police in 2019. Currently 180 Nepali are serving as Qatar police. Looking at the world cup football 2022 Qatar is going to enroll more Nepalese in their police force.
How to Apply Qatar Police Job?
There are different level interviews for the Qatar Police Job. Hence you must be well prepared for the interview. If you are not able to face the interview properly it may mislead your dream.
Some Important Points for Interview
Always be confident while facing the interview.
Make good eye contact during the interview.
Provide your all supportive documents to the interviewer.
Sample Questions for Qatar Police Job
These are some sample questions for Qatar Police Job. So prepare well for these questions.
Tell me About Yourself
While answering this question focus on your skill and experience as the interviewer do not expect personal details.
Sample Answer:
Thank you sir, I am Hari Bahadur KC from Baglung. I have served Nepal army for 16 years. During may job in Nepal army I have done several courses like VIP protection, crowed control and jungle courses.
Some Interviewer May Ask Direct Questions
What is your name?
Where are you from?
2. Why do you want to join Qatar Police?
Sample Answer:
Sir, Qatar Police is one of the advanced police force in the world. Hence I want to be the part of such renowned organization.
3. What did you do in Army job?
Sample Answer:
Sir, beside the regular roster duty I had to perform post duty, patrolling and other rescue during the natural disasters. At the same time as an army personal I had contributed for high way construction in Nepal.
4. Why do you want to go abroad job?
Be careful while answering this question. Never give lop hole to the interviewer.
Sample Answer:
Thank you sir for such good question, I always consult with my family for going abroad. I know well that Qatar has multi culture. There are people from many countries in the world. Being the Qatar Police it will give me to understand and learn multi culture of the world.
5. When Will You Inform If You Find a Crime?
Sample Answer:
I will inform immediately as soon as possible.
6. Will You Arrest your Friends or Relatives during your Duty?
Sample Answer:
Of course ! Being the security personal I will never discriminate the criminals. At that moment there will be no any relation with the criminals.