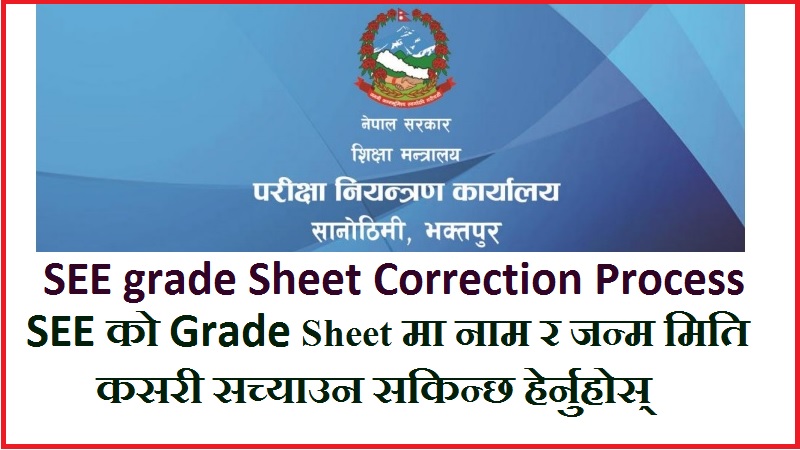 Here is SEE grade Sheet Spelling Correction steps. There are several students with spelling error in their grade sheet. So here we give details about the SEE grade Sheet Spelling correction steps.
SEE Grade Sheet Spelling Correction Steps
You might have error in your name in the SEE grade sheet. At the same time you may not know how to proceed for the correction. Therefore here we give the step by step process for the SEE grade sheet correction. Check all the required documents for this correction process. This will certainly help the students and parents for the correction process.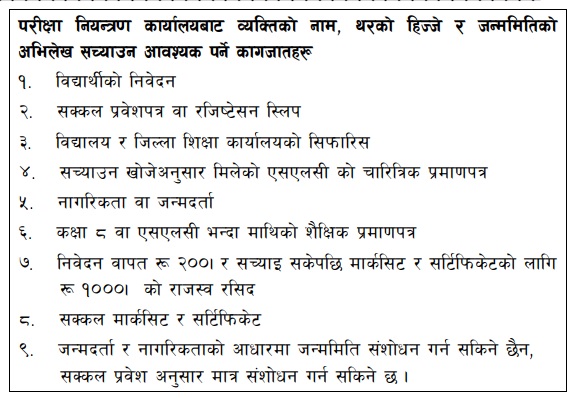 SEE Exam Preparation Guide
Hundreds of thousands students appear the SEE exam every year. Sometime students are found searching for online materials for the exam preparation. so here we provide the free SEE online exam preparation materials. These online materials are prepared by the subject expert of our team.
SEE Online Mathematics Preparation Class
Our mathematics teachers' team provides the free online mathematics classes. At the same time we provide the offline mathematics practice questions. These mathematics questions are equally important from the examination point of view. On the top of this we are pleased to inform you that our mathematics expert team consists of more than 25 years teaching experienced teachers.
Online SEE English Class
Similarly we give online class for SEE students for English subject as well. We have past paper collection of English. Therefore we suggest all the SEE students to make the optimum utilization of these resources. It is not scientific to repeat all the things of our previous articles so you can go there via the link given here.
How to Prepare Opt Mathematics for SEE Board Exam?
Optional mathematics is the optional second for the general schools. However the curriculum is same in technical schools. Therefore for both general school and technical school students it is equally important. Please check our pervious articles regarding the optional mathematics formula collection and exam preparation guide.
Do not Miss this:
Finally we would like to express our best wishes to all the SEE taking students.