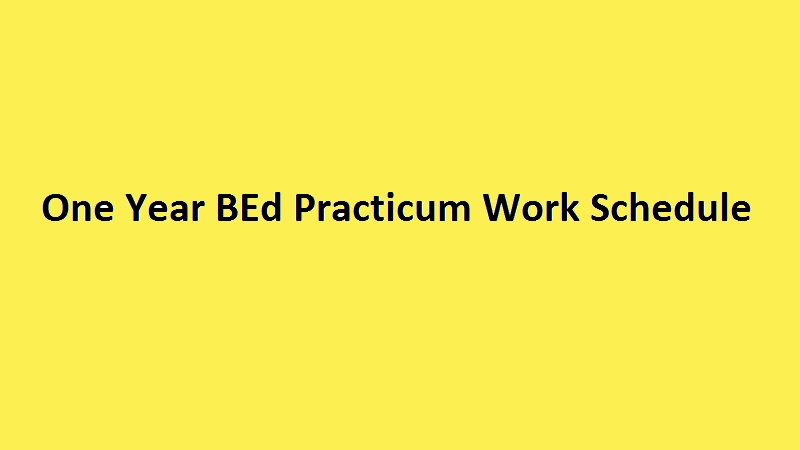 Here is the complete One Year BEd Practicum Work Schedule. So this One Year BEd Practicum Work Schedule will help the students to prepare school report.
One Year BEd Practicum Work Schedule Chapter One
This One Year BEd Practicum Work Schedule first chapter contains the following.
Historical background of the school
Present situation of the school
Review of the organizational structure
Review of the organizational structure the following times are included
Educational and administrative structure of the school
School management committee
Parent teacher association
School administration
School staff
Financial activities of the school
The next important part of the study is the student related study. Students are the main component of the school. Hence during the study of the school student's report is very essential.
Student Related Study
Student record
Student's discipline
Student's attendance
Students number and class size
Repetition situation of the students
Number of drop out
Teachers and students ratio
Examination System in the School
Existing administrative policy and counseling service
Administration policy
Promotion of the students
Daily work plan of the teachers
Annual work plan
School uniform and sanitation
Office operation
Extra class for the weak students
Physical Management of the School
School building and physical management
Playground and the sport materials
Science and computer lab
---
---
Study of the school's financial Situation
School's annual budget
School and local community relationship
Future action plan of the school
Chapter Two Case Study
The case study contains the following chapters.
Introduction
Objective of the study
Limitation of the study
Methodology
Data collection
Presentation, analysis and interpretation of data
Major findings
Conclusion
Suggestions
Chapter Three Seminar Programmed
This chapter contains the following components.
Introduction
Objective
Significance
Discussion of the key components
Conclusion
Suggestions
Finally we give the frame of the school report. So the practicum report contains the following components.
Cover page
Approval letter
Acknowledgement
Table of content
Abbreviations
List of tables
The List of the figure
List of the chart and graph
Main body of the report
Reference
Appendix
So this is our attempt to provide certain guide line for the student of one year bachelor of education. Hence One Year BEd Practicum Work Schedule mention above will guide the students to prepare the school report. Finally this report will fulfill the demand of 100 marks practicum subject.
Well beside this if you have any question contact us. Because our team is ready to help you all.