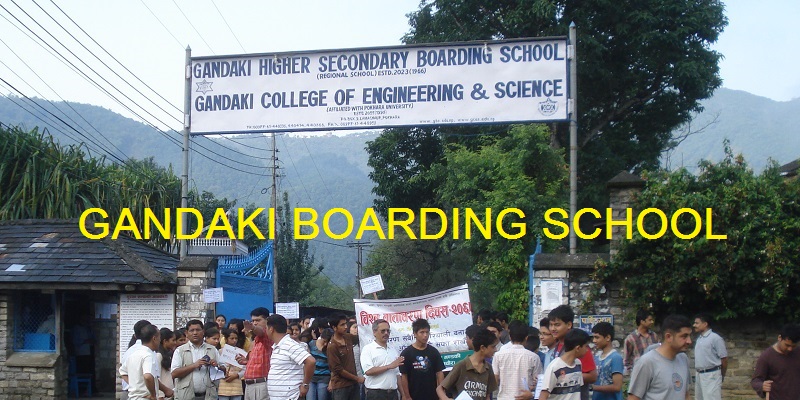 Gandaki Boarding School is in the western development region of Nepal. Gandaki Boarding School is celebrating its golden jubilee this year. The year 2072/073 is the golden jubilee year for GBS family. The glorious 50 years of excellence it is observing. The SLC batch of this year is also called the golden batch. It is because they are the SLC student of the golden jubilee year. In this regard also SLC batch 2072 is luckiest. One hundred and twenty three students appeared in SLC from GBS this year. These golden batch students will  bring golden result in the history of Gandaki Boarding school.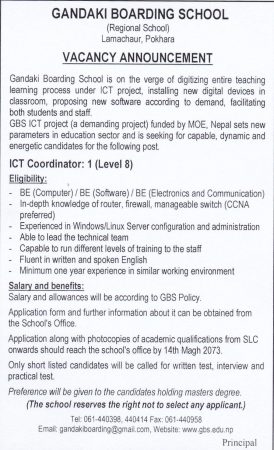 Gandaki Boarding School, Why GBS ?
 The boys were in Nilgiri hostel in this batch. Nilgiri always attempt to provide homely environment to these kids. Beside bookish knowledge they were given practical knowledge. There was cooking club in Nilgiri hostel. It always empowers student the knowledge of cooking. It was based on the concept of all round education to the Gandakian. This kind of knowledge helps them in the different sectors of their life.
If they went abroad for further study and the situation arise that they have to cook themselves. At this moment how much useful will be the knowledge learnt in school level. Not only this, there are several other clubs to impart basic and practical knowledge to the students.
This is the one example only. The students in GBS learn many things beside their school study. They have to clean their class themselves. This teaches them how to keep the room neat and clean. How to use the broom? How to pick up rubbish in dust pan  these students learn in GBS.
They work in the garden of the hostel. By this they learn the skill of gardening. They will be familiar with nature. They understand the importance of plants and trees. A group of students work to clean the hostel dormitory, toilet and bathroom. This teaches them how to work in group.
These several  reasons make the student of GBS different than other students. Due to these reasons Gandaki Boarding School is different from other schools. For more detail of GBS log on www.gbsnote.com. You can also  follow us in Facebook.
You May Also Like: