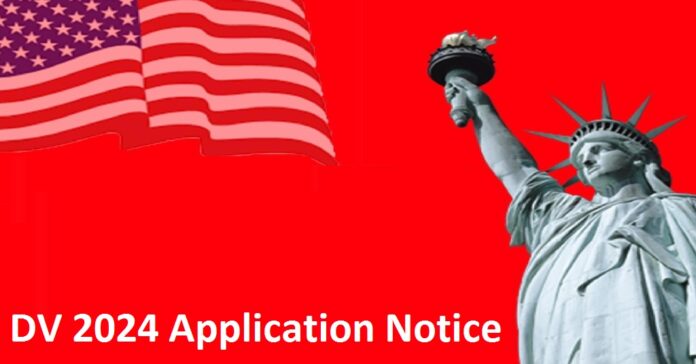 The easiest way to get American green card is dv lottery. Here is DV 2024 Application Notice. Most probably it is the last chance for Nepali citizens for dv lottery.
According to the state government record the number of migrants from Nepal to USA is almost in saturation point. It means that DV 2024 can be the last dv lottery from Nepal. Hence do not miss this opportunity. Similarly the past experience shows that the early applicants are being selected more in the lottery.
Useful Links
DV 2024 Application Notice
The American embassy Kathmandu publishes the dv lottery application notice. It is now time to prepare all the required documents for the diversity visa lottery. EDV 2024 online application begins from the second week of October 2022.
Online Application Steps
If you have internet facility and computer then you can easily fill the dv lottery from yourself. It is not necessary to go to the agents for this purpose. The state government strictly mentioned that do not take help from others to submit the diversity visa lottery online application.
Forms Disqualification
In the following cases your dv lottery form will be disqualified from the random selection. DV lottery is perfectly computer based selection. There is no human influence in this lottery program.
Incorrect photo size
Use of old photograph for the dv application
Incorrect information in the application like passport number and other.
Double submission of application form.
One individual can fill only one dv lottery form as a main applicant. If you submit two application forms in the same year then your application form will be removed for the random selection.
Correct Size DV Photo
Your dv lottery application must be 600 X 600 pixels. Similarly your head in the dv photo must cover more than 60 percent. If you wish to learn more about it visit gbsnote.com and find it.
Important Information for DV Lottery
DV 2024 Application Notice is coming soon. Hence here we discuss on some important points about EDV lottery.
Application Fee: There is no charge for DV lottery application.
Consultant for Application: The state government suggests not taking help from the consultant. Therefore you are encouraged to fill the dv lottery form yourself.
Forms to be filled online: You cannot send hard copy of dv lottery application. It is mandatory to submit the diversity visa lottery forms via online mode. So for this you have to visit the official page of dv lottery and complete the online form.
Dvprogram.state.gov: it is the official page of dv lottery. This official page of American government. Here you can fill the online dv forms and submit it.
Photo Quality: Your dv lottery forms must contain recent photograph. It must not be older than six months.
As soon as the US embassy Kathmandu publishes the dv lottery application notice then we will make it available. Hence remain with us for all kinds of information about diversity visa lottery. Once more we want to remind you that it might be the last dv lottery from Nepal.