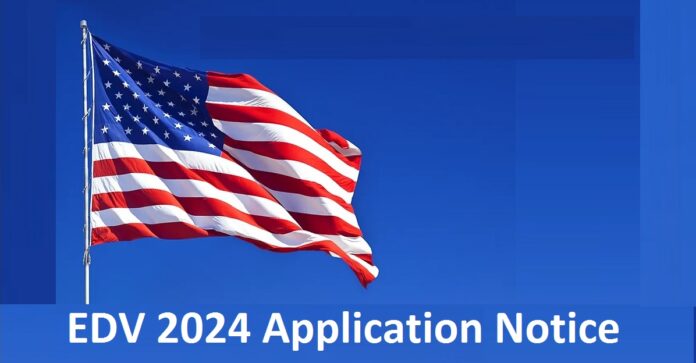 Here we have EDV 2024 Application Notice. So, all the eligible candidates can submit their online application form from this page.
State government has introduced new rules in DV. Hence read these rules carefully.
It is wise to take eligibility test before submitting online form. People from the eligible nations can apply for DV lottery. It is the only way from many migrant people to get green card in USA.
Online Form
The online diversity visa lottery form is available at dvlottery.state.gov. It is the official website of dv lottery. Follow all the requirements for the dv lottery. A small error in the online form makes your application disqualified for the lottery. Basically your dv lottery form must contain correct size photographs.
EDV 2024 Application Notice
The embassy of USA Kathmandu publishes the dv lottery application notice. As soon as the embassy publishes the notice we will make it available here. Just remain with us for all kinds of dv lottery notices and information.
How to fill EDV form?
Follow these steps to fill online dv lottery form.
First of all go to dvlottery.state.gov
It is the official page of dv lottery.
Give all the family details correctly
Once check it before final submission.
Provide the correct size photo.
Save or print the confirmation number page for your record.
On the top of this the main applicant must give valid passport number.
DV Photo Size
The diversity visa lottery photograph must be 600 by 600 pixels. Similarly it must be the recent one. You cannot use hat other clothing in your head. At the same time do not use spectacles in the dv photo.
2024 EDV Result
The state government publishes the edv result in the first week of May 2023. During the result time you need the confirmation number. Hence keep your confirmation number safe. Do not share this number to anyone.
2023 DV Winners from Nepal
It is the list of dv winners from Nepal. As you know well the state government does not publish such list. It is our attempt to collect the name of dv winners from Nepal via several sources.
If you have any question about dv lottery contact us. Our expert's team is ready to help.
EDV 2024 Opening Date in Nepal
DV 2024 application begins from first week of October 2023. It is now about one and half month to start dv application form. Hence it is right time to prepare all the required documents for the lottery. Basically you need passport to fill dv form. Hence if you do not have passport apply for the passport just now.
Things to Remember
Well if you are new for the dv lottery first of all read all the dv rules. These rules are available in the official page of state government. As mentioned above a small error may lead your application disqualified. Hence collect the knowledge of dv rules before submitting online form.