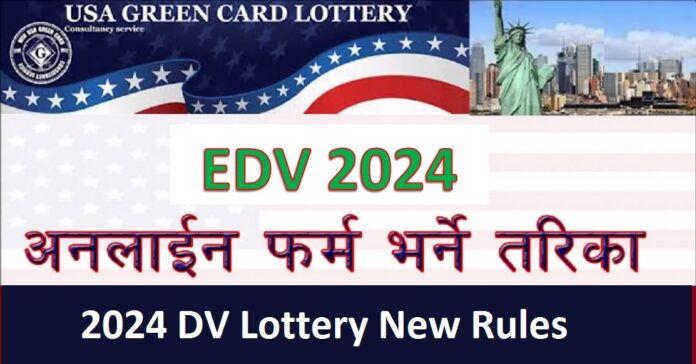 The state government has introduced new rules in dv lottery. Here we have 2024 DV Lottery New Rules. Hence the applicants must go through it before submitting the online application.
2024 DV Lottery New Rules
DV program has changed the rules for the dv lottery application. Therefore you have to take online test before submitting the diversity visa lottery online form. Here are major changes rules of dv lottery.
New Rules in EDV Application
DV lottery 2024 begins from second week of October 2022. It is now the right time to collect the knowledge for the dv lottery online application form. Every year thousands of dv application forms become invalid. Hence give attention while submitting the online dv form.
What are EDV New Rules?
It is the question in the mind of many people in Nepal. As mentioned above a single error will take your application form in the dustbin. Therefore read these rules carefully before submitting the online application form. The most probable area is the photo size which makes your online form invalid.
The dv program does not accept old photographs. Hence it must be the recently take photo not older than six months. Similarly, you cannot give the animation in the digital photographs. The background of the dv photos must be light and clear.
The size of the photo must be 600 by 600 pixels.
Details about correct dv lottery photo sizes you can learn from our previous articles.
How to Apply Online DV Lottery form?
If you have computer with internet then you can do everything yourself. Take the digital photograph of the dv lottery applicants and their family members with digital camera. Keep the background white. Crop the photo in such a way that the head must contain more than 60 percent of the photograph.
Do not use hat or cap in this photo
Female cannot wear the ornaments.
Remove your spectacles during the photo.
Never tilt the head to the sides
DV Lottery Online Application Steps
First of all go to the official page of dv program. It is dvprogram.state.gov. Here you find the online application form. Fill all the details properly. Never provide the fake information. If you are found with fake data, then you will never get chance to move America?
Once check all the details and main applicants' passport number. Then submit the online dv lottery form. Now after the successful submission of online lottery form you receive a confirmation number. It will be used to check the dv lottery result in the month of May next year.