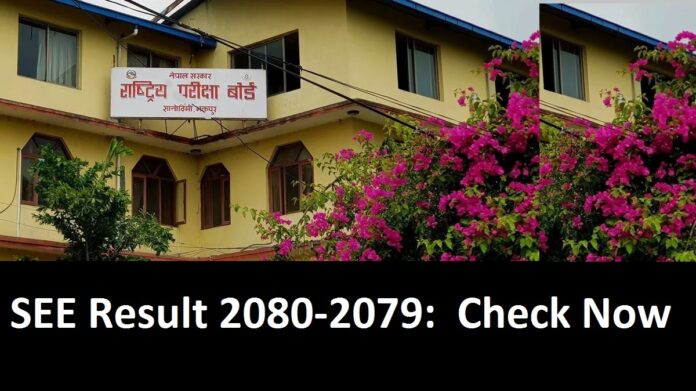 Hello Students Welcome to our SEE online Result Page. Here we give the date and time for SEE Result 2080-2079.
SEE Result 2080-2079
Are you looking for SEE result 2080? Well, then this article will be obviously helpful to you. Here are the steps for the online SEE exam result 2080-2079.
SEE result is coming soon.
According to the source of office of the controller of examination it is working to publish the SEE examination result by the first week of July 2023.
Three Ways to check online SEE Result
SEE Result by websites
SMS method for SEE online Result
SEE Exam Result by IVR system
How to check SEE Result by websites?
You can check the SEE result from websites. Here are the steps for the SEE online result. Just follow these steps to get the SEE result with grade Sheet.
Websites for SEE Exam Online Result
These are some official websites for the online SEE exam result.
See.ntc.net.np
Soce.gov.np
See.gov.np
Neb.gov.np
And some other private sector websites
The list of websites to get online SEES exam result will come very soon. As soon as the examination board publishes the list of websites we will make it available in this article.
How to check SEE exam result by mobile SMS?
SEE exam result is also available by mobile sms method. So, to get the SEE exam result with GPA you have to follow these steps.
Go to message box in your mobile phone set
Type SEE give space and type exam roll number
Now send it to 1600 for the NTC phone set users
Check this example to send sms for the secondary education exam online result.
| | |
| --- | --- |
| SEE <space> symbol number: | Send it to 1600 |
| SEE <space> symbol number: | Send it to 35001 |
How to check Examination Result 2079 2080 by IVR method?
This is the third option for the SEE exam result. The steps for IVR method to get the secondary education exam SEE result is as follow.
Dial 1600 from Nepal Telecom any phone set
Now listen the instruction given over there
Just follow these instructions
Now you can listen to the SEE result in your phone set.
New Grading System
National Examination Board and the office of the controller of examination have changed the grading system. The new grading system for class 10 and class 12 final board exams is like this.
| | | | |
| --- | --- | --- | --- |
| Grade | Marks Range | GPA | Remarks |
| A+ | 90-100 | 4 | Out Standing |
| A | 80-90 | 3.6 | Excellent |
| B+ | 70-79 | 3.2 | Very Good |
| B | 60-69 | 2.8 | Good |
| C+ | 50-59 | 2.4 | Satisfactory |
| C | 40-49 | 2.0 | Acceptable |
| D | 35-39 | 1.6 | Basic |
| NG | 0-34 | NG | Not Graded |
What to do after SEE?
There are many options for SEE graduates. Hence they can choose the option according to their interest. At this moment we would like to suggest all the parents not to force their kids while choosing the faculty of study after SEE result.
Finally we would like to express our best wishes to all the SEE result waiting students for their upcoming result.
Share this article for your friend and relatives for their information.