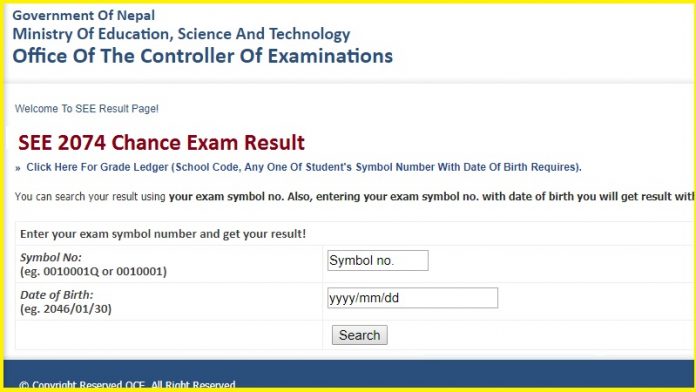 SEE 2074 Chance Exam Result is out now. So the students can find their SEE 2074 Chance Exam Result from here.

SEE 2074 Chance Exam Result
SEE i.e. secondary education examination is the board exam at the end of class 10. Since 2072 SEE exam the result is in grading system. Before 2072 this board exam is used to call SLC.  School leaving certificate exam results were in percentage system. Here we give the easy step to find the online SEE chance exam result.


Well to get the SEE chance exam result first of all go to the official website of controller office. The www.soce.gov.np is the official web portal for online SEE result. Here you have to enter the exam symbol number to get the result. But if you want to check the grade sheet you must give the date of birth as well.
Best Faculties for Grade 11 Study
There is no any faculty best or worst. The main thing is that whatever you study you must do it best. So we suggest all the SEE graduates to study that faculty which you can do your best. Sometime students are under exam pressure. Such activities never give the good result.
Is Science the Best Faculty for Grade 11 Study?
Generally our society thinks that studying science is the best. But if the science student is not able to get good grade in the board exam then it has no point. So our suggestion is that choose the faculty which you are interested.
Best Plus Two Colleges in Nepal
There are several organizations to conduct survey with different parameters among the plus two colleges and schools in Nepal. According to this parameter they give their won type of ranking. Here we have a kind of plus two colleges list.
Technical and Vocational Study in Nepal
Basically CTEVT in Nepal provides vocational study. So the students appearing such chance exam can join different kinds of course offered by CTEVT. If you are interested to know more about CTEVET see our previous articles on it.