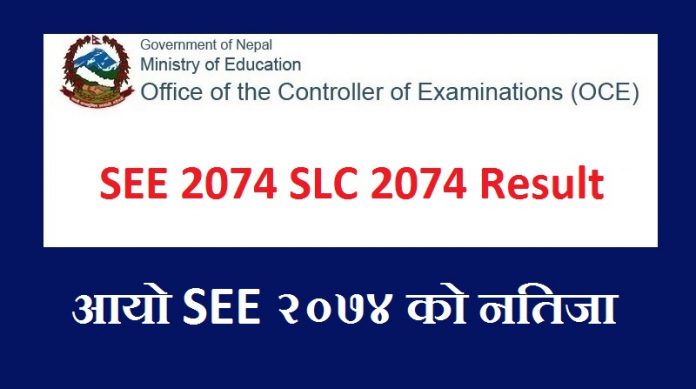 SEE 2074 SLC 2074 Result is going to be published by second week of Asar. So the SEE 2074 students can check their SEE 2074 SLC 2074 Result from here.

SEE 2074 SLC 2074 Result in Smart Phone
SEE 2074 SLC 2074 Result is available in your smart phone. So for this purpose you have to dial 1600 and follow the instruction over there. The user of Nepal Telecom can use this facility from both PSTN and GSM mobile phone.
There are several website to provide the online SEE 2074 result. Some of the official websites for the online SEE 2074 result are as follow.
The web portal of examination controller office Sanothimi Bhaktapur- www.soce.gov.np
Nepal Telecom website for SEE 2074 result- www.see.ntc.net.np
National examination board Nepal- www.neb.gov.np
Beside this there are several other private web portals to give the online SEE exam result. Similarly gbsnote.com also gives the online SEE exam result.
Soon after the SEE 2074 SLC 2074 Result students have to prepare the grade 11 entrance exam. This entrance exam is very tough to get seat in reputed colleges. Therefore we give some questions for the class 11 entrance exam. Basically there is high competition in the science stream in famous colleges.
Best Faculty for Grade 11 Study?
There is no faculty as the best faculty for the students. The main thing for the students is their choice. So the student must study that stream he or she can enjoy the study. The forceful study does not give the good result. However parents must explain about the scope of each faculty in the global market.
This is the entrance exam capsule for the SEE students. Here you find the collection of entrance questions for different subjects. During the study if you have any constructive suggestion please leave the comment in the comment box below.
Finally we would like to express very best of luck for all the SEE 2074 students.