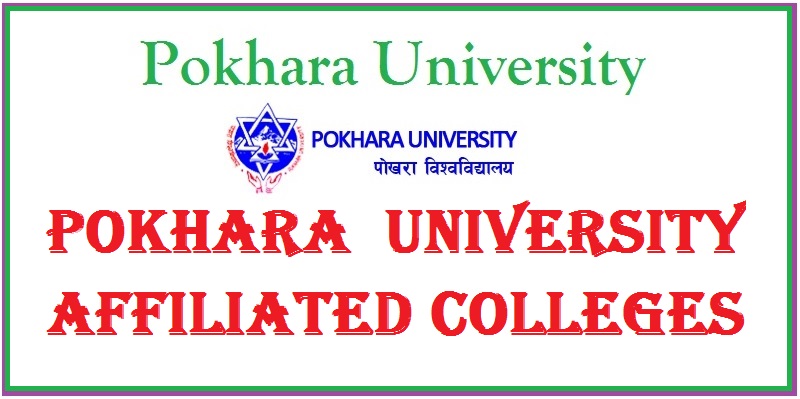 There are many Pokhara University affiliated colleges in Nepal. Here is list of Pokhara University affiliated colleges. Pokhara University focuses on technical education. Therefore most of the PU affiliated colleges are engineering colleges.
---
Pokhara University All Faculties Result 
---
So there are many PU affiliated engineering colleges in Nepal. Hence out of these colleges Gandaki College of Engineering and Sciences is the one. This college is in Pokhara 16 Lamachaur Nepal.
Pokhara University Affiliated Colleges
Rapti Engineering College,Ghorai,Dang
Atharva Business College, Bansbari, Maharajgunj, Kathmandu, Nepal
Pokhara University School of engineering, Dhungepatan Kaski Nepal
Shahid Ramnath Dahal Memorial College (MRM), Balaju, Kathmandu.
Ace Institute of Management (AIM), New Baneshwor, Kathmandu. 
Apex College, Baneshwor, Kathmandu.
Brihaspati College, Siddharthanagar-5, Rupandehi
Pokhara University Affiliated Colleges
College of Computer Technology, Devinagar, Butwal-13, Rupandehi
Cosmos College of Management & Technology, Tutepani, Lalitpur
Everest Engineering and Management College (EEMC), Baneshwor; Kathmandu ]
Nepal Engineering College (NEC), Changunarayan, Bhaktapur
Oxford college of engineering and management, (OCEM) Gaidakot, Nawalparasi
Gandaki College of Engineering and Science, Lamachour, Pokhara
Institute of Advance Communication, Education & Research, Baneshwor, Ktm.
Lumbini Engineering College, Butwal, Rupandehi.
National Academy of Science & Technology, Dhangadhi
National Open College (NOC) Sanepa, Lalitpur
Nepal College of Computer Studies, Gaindakot-2, Nawalparasi
Nepal College of Information Technology (NCIT), Balkumari. It is in  Lalitpur.
Nepal Engineering College (NEC), Changunarayan. It is in Bhaktapur.
Nepal Tourism & Hotel Management College, Chinnedanda, Pokhara
Nobel College, Sinamangal, Kathmandu.
Pokhara College of Management Studies, New Road, Pokhara
Pokhara Engineering College (PEC) Phirke-8, Pokhara
Pokhara College of Technology (currently known as LA GRANDEE International College (LGIC)), Simalchour-8, Pokhara
School of Environmental Mgt. Sustainable Dev (SchEMS) 62/38 Siddhicharan Marg Shantinagar, New Baneshwor
Tilottama Campus Yogikuti, Butwal, Rupandehi
South Asian Institute of Management (SAIM), Patan, Lalitpur
Universal Science College (USC) Maitidevi, Kathmandu.
S. Niketan College, Min Bhawan, Kathmandu
Camad college sukedhara, Kathmandu.
Ritz college of hospitality and management, balkumari,lalitpur
Nepal Western Management and Engineering College Dhangadhi Kailali
Boston International College, Bharatpur-9, Hakim chowk, Chitwan
Liberty college, Anamnagar, Kathmandu
The Gandaki College of Engineering and Sciences is known as GCES. Similarly it provides the computer software engineering study. This is the only college to provide computer software engineering education in Nepal. The student's pressure is increasing year by year in GCES. So we hereby would like to suggest all the students to come and visit the college.
Read More: