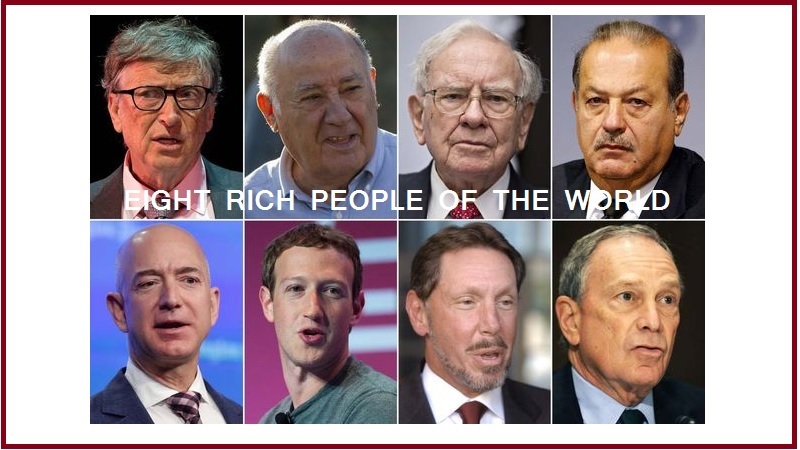 world eight rich people list is here. According to the news given in January 17 2017 Kathmandu post half of the world's property in owned by world eight rich people.
How Bill Gates Became Billionaires? Biography of Bill Gates
Here we discuss about these world's eight rich people. This wide gap between rich and poor people is not good symptom for the world's economy.
The economists defines that such gap is being wider and wider year by year. In the same news published in Kathmandu Post the half of the world's property was in hand of 62 billionaires of the world.
Such kind of inequality in wealth distribution pulls the society apart. The wealth of eight rich people of the world is equal to the 3.6 billion poor people of the world.
Among these eight rich persons of the world six are from America one from Mexico and one from Spain.
World Eight Rich People

Bill Gates the founder of Microsoft is in top level. His total property is 75 billion dollar.
Mark Zuckerberg who co-founded Facebook has the property of 44.6 billion dollar.
Jeff Bezos founder of Amazon has net property of 45.2 billion dollar.
Amancio Ortega has net property 67 billion dollar.
Warren Buffett has 60.8 billion dollar as his net property.
Carlos Slim Helu owns 50 billion dollar.
Larry Ellison is the owner of 43.6 dollar.
Michael Bloomberg is the owner of 40 billion dollar.
Some Important Information:
The economist defines the poverty of one nation is the risk for the other rich country. So for the peace and security in the world the wealth distribution must to uniform as far as possible.
Therefore rich and strong countries are spending huge budget in the Asian and African poor countries.
It is said that scarcity in one country is the headache for the neighboring poor countries. So rich countries are investing some fraction of their budget as grant to the poor nation.