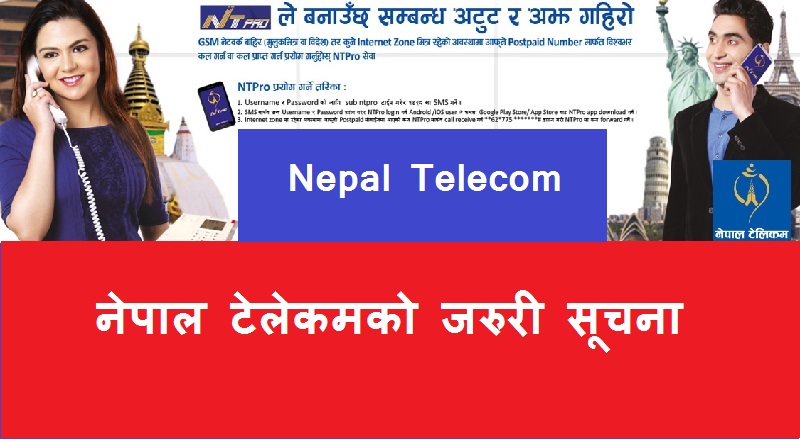 Nepal telecom service is the first telephone service provider in Nepal. In its early days the service of Nepal telecom service was urban area based. At the same time so many years Nepal telecom remained reluctant for the extension of its service.
Nepal Telecom Job Notice

 Today Nepal telecom service covers forty eight percent of total telephone users in Nepal. When Ncell initially called Mero mobile came in its service then only Nepal telecom started its extension program. So together with other private communication companies it had to compete in the market. Therefore these private companies made Nepal telecom little bit more active.
In recent days according to the authorities of Nepal telecom it is concentrated towards the improvement of data service. So 4G may be the symbol of this data improvement.
Top up Nepal Telecom Service

The prepaid as well as postpaid GSM Mobile user can recharge their account using recharge card available in the market. Nepal Telecom imports these recharge from neighboring country India.
Recently during the shipment of these top up recharge card import a huge amount of hundred rupees denomination cards are missing as the news given in Kathmandu post.
Nepal telecom has already deactivated these cards. So here we are giving this message to the public not to purchase these theft cards as they may be found in the local market.
Details of missing Recharge Cards
The serial numbers of the deactivated recharge cards and other more details you can find in the image of the news attached in this article.
Similarly we kindly like to suggest you all that after getting this message please share it among your friends so that they will not be in trouble later. It is the duty of a citizen to relay such publicly important notice.
Nepal telecom is going to investigate about the incident. According to the concerned authority it is first time Nepal telecom is facing such incident.
You May Also Enjoy Reading These Articles: