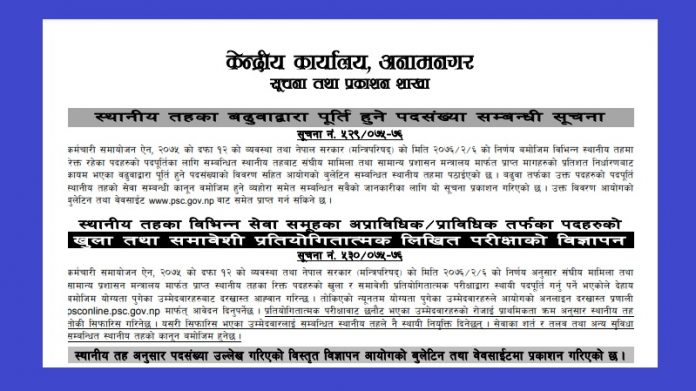 Local Level Job Announcement
PSC Nepal has made Local Level Job Announcement. According to the Local Level Job Announcement there are more than 9 thousand vacancies in 753 local levels.
Public service commission Nepal has announced more than nine thousand vacancies for the local level. As there is acute shortage of staffs in local level government is going to fulfill these vacancies in fast track mode.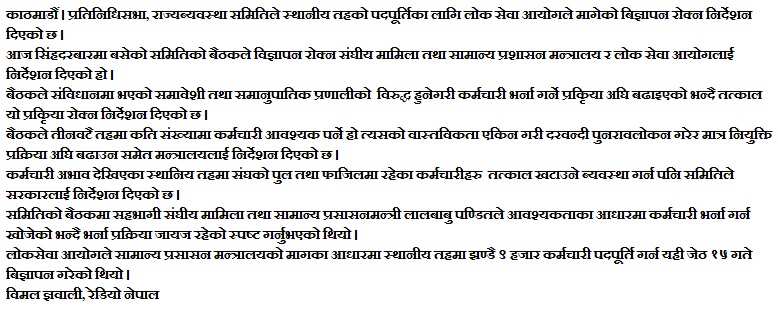 Fast Track Job Announcement
As mentioned Nepal federal government is working to fulfill the vacant post in 753 different local levels throughout the country. See more at www.psc.gov.np
Public service commission will finalize the selection of the candidates in different levels and respective local level will provide the appointment letter to the newly selected candidates.
It means that PSC Nepal federal unit is just finding the right candidates for the vacant posts.
Province Level PSC Office
There will be public service commission in each province. But till now the process of formation of province level PSC office is not over yet.
Hence this time federal office of public service commission is making the vacancy announcement for local levels.
Details of the Local Level Job Announcements
Here is the detail of the vacancy announcement made by the Lok Sewa Aayog Nepal for local level. The notice is in the 29 May Gorkhapatra.
We have attached the certain pages of Gorkhapatra but due to technical reason we are not able to attach all the pages over here. For this our team is so sorry.
How to Apply for the Local Level Vacancy
It is similar to the other PSC Nepal job application. So for this also you have to make the online application for the job. If you have any confusion about it you can see the PSC Nepal official website.
New Curriculum for Local Level Job Announcement
There is little change in the curriculum for this local level fast track job application. Hence we suggest all the applicants to go through the new curriculum properly.
Finally feel free to communicate if you have any problem about public service commission.