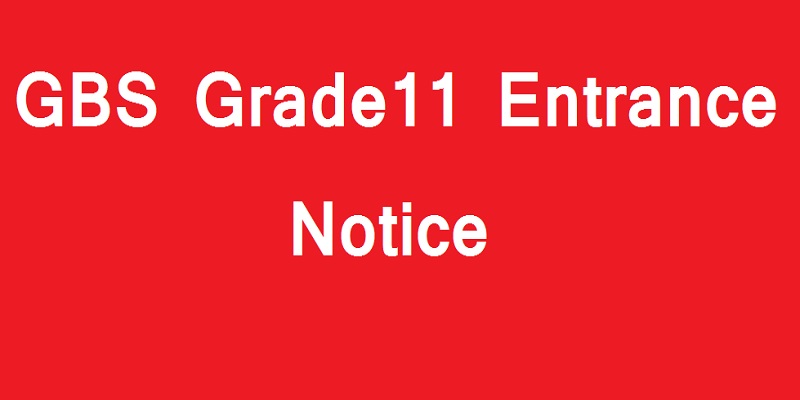 There is huge pressure of students in GBS grade 11 entrance exam. Most of the topper from each school appears the grade 11 entrance exam in GBS.
GBS Class 4 Scholarship Exam Notice

However only twenty percent of the students who appeared the entrance gets the chance to study GBS. GBS has published the notice for grade 11 admission. The office of controller of examination has recently published the SLC result. This time the SLC result is in grading system.
This grading system was introduced in technical schools from last year itself. Gandaki Boarding School has announced admission for grade eleven by today. GBS has three sections in grade 11. In each section there are thirty six seats. There is big pressure in grade eleven admissions. Each year nearly twenty percent candidates appearing the entrance exam get chance in GBS. The entrance exam is based on grade ten texts.
Class 4 Entrance Exam Result

There will be there subjects in entrance exam. They are Math, Science and English. GBS has separate hostel for plus two boys. The physical facilities for the students are well managed. Several surveys show GBS in the top most rank of plus twos in Nepal. You can find the rank of GBS in this website gbsnote.com. The parallel course of grade eleven is A level. GBS has already completed the admission for A level for this year.
Grade 11 entrance exam result.
The entrance exam in Amar sing High School is Also schedule for 11 Asar. The forms for grade eleven admissions are available from the school's office. The last dated for the form submission is 10 Asar. The entrance exam is schedule for 11 Asar at 11 a.m.
The name list of successful candidates together with waiting list will be published in local daily newspapers. You can also check the name list of successful candidates in gbsnote.com.
It always tries to provide current academic information to all parents and students. This year as there is no fail system in SLC the pressure of students  seems to  increase. It is not only in GBS but every ten plus two will suffer from this problem. There are no higher secondary sections in all high school of Nepal. So the students from these high schools are seemed to be adjusted in other schools.
More About Gandaki Boarding School
The admission process for grade eleven seems to be messy this year. The number of seats available in the existing plus twos are less than the number of SLC appeared students. It is the condition of wait and sees how the concerned authority will manage it. Any way gbsnote.com would like to express best of luck to all the students who are going to appear entrance exam for grade 11 in GBS.