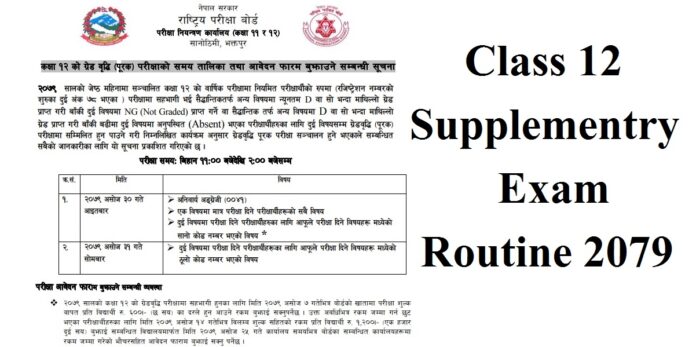 Here is Class 12 Grade Improvement Exam Routine. NEB has published class 12 results. Hence students getting NG in any two subjects can retake exam.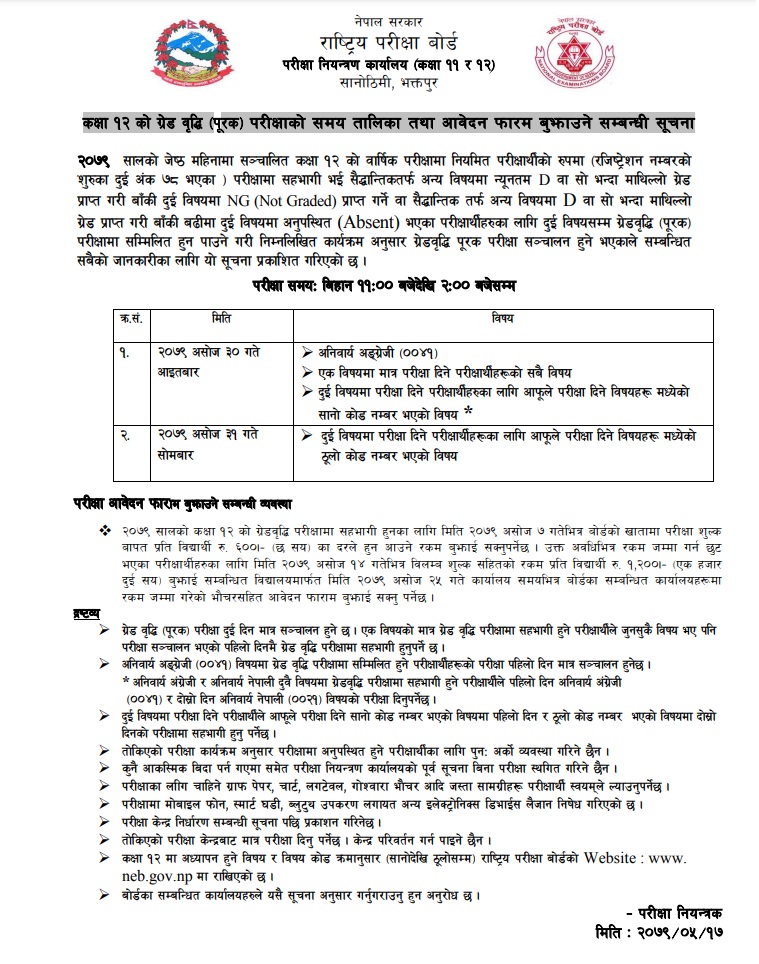 Submit the Online exam form.
Class 12 Grade Improvement Exam Routine
National Examination Board is planning to take grade improvement exam for class 12 students. The exam will hold by the end of next month. Here we have attached the exam routine. This chance exam will be on two days. It is on Aswin 30 and 31.
Class 12 Routine
Class 12 exam routine is at the end of this article. Students failed in two subjects can retake the exam. Hence students getting NG in any two subjects can take this exam. They do not have to submit the new exam form. Students can take the exam with the same admission card.
Exam Timetable
National examination board is going to publish the exam time table soon. As soon as it is out we will make it available in this page. Hence remain in touch with us for all kinds of information about examination board Nepal.
How to Prepare Exam
It is wise to rise early in the morning. The morning study is better than late night. The lessons studied in the morning remain fresh in mind. Therefore students must go early in the bed and rise early in the morning. Beside this you can make your own study time table. This habit will equally divides the time to each subject.
New Grading System
NEB has introduced new grading system. According to this new system board has published this year class 12 result. Students unable to get marks 35 or above got NG. These students can retake the exam at most two subjects.
Grade 12 Exam Schedule
Class 12 Grade Improvement Exam Routine is coming soon. We are here to give this time table via this page. There is about 6 weeks for the chance exam. Hence if you got NG in any two subjects then you can take this chance exam.
Class 12 Retake Exam
NEB retake exam is scheduled for next months. So students getting NG in maximum two subjects can participate in this exam.
If you have any questions about this exam then comment your queries in the comment box below.