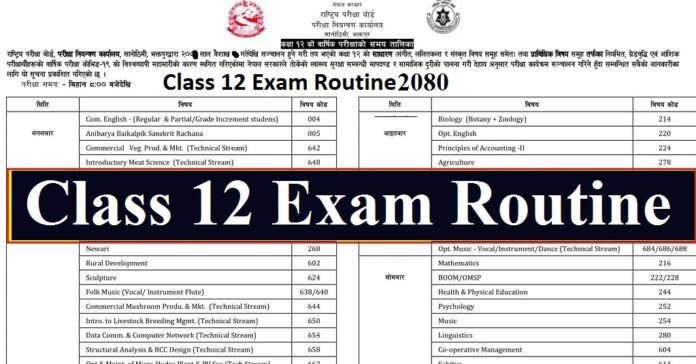 The board is planning to publish 2080 NEB Class 12 Exam Routine very soon. As of now it is not public. According to the high-level source the exam will begin from second week of Baishek 2080.
2080 NEB Class 12 Exam Routine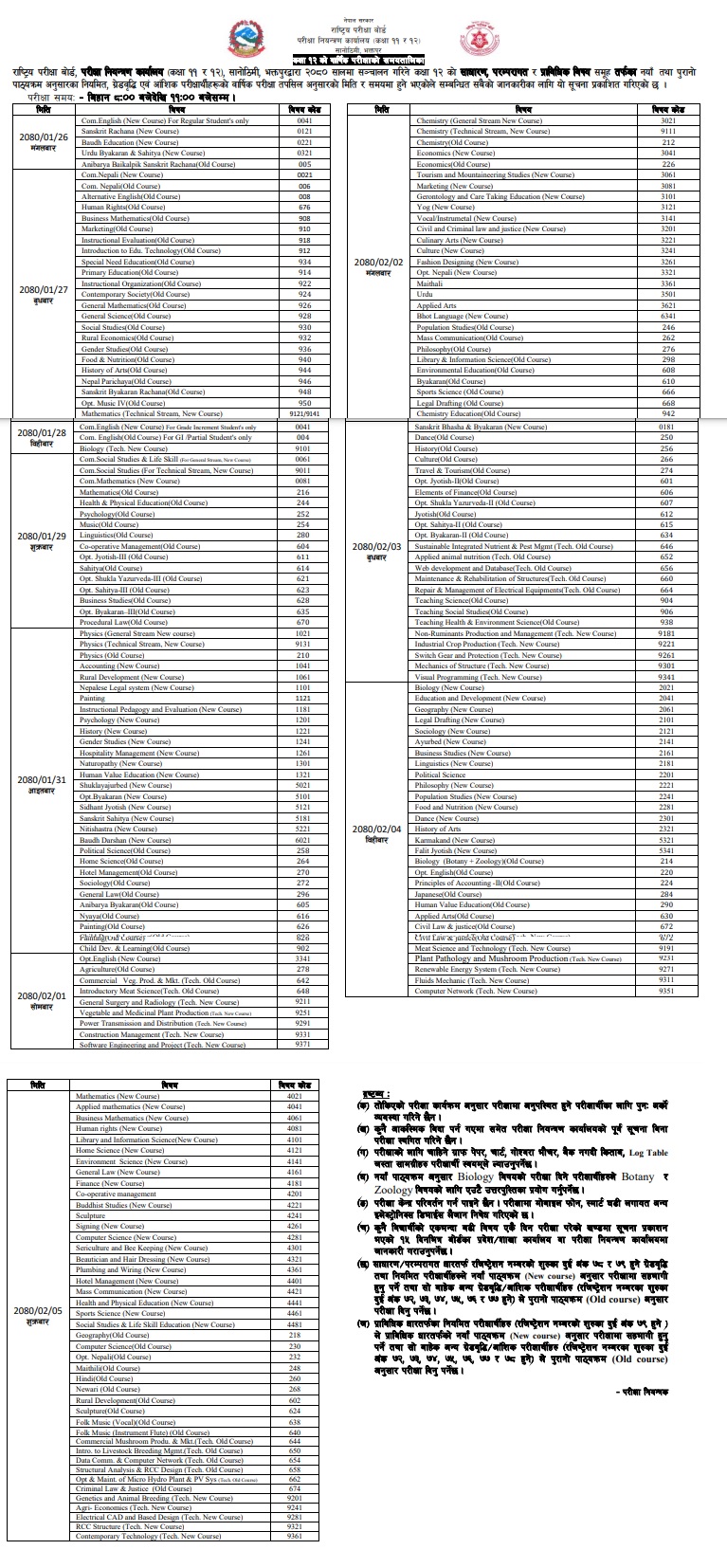 | | |
| --- | --- |
| Date | Subject |
| Baishek 26 Tuesday | Compulsory English |
| Baishek 27 Wednesday | Economics |
| Baishek 28 Thursday | Nepali |
| Baishek 29 Friday | Physics |
| Baishek 31 Sunday | Account |
| Jestha 01 Monday | Chemistry |
| Baishek 2 Tuesday | Biology |
National Examination board will publish the exam routine for class 12 board exam soon. Hence you can get the board exam routine from this page. We are giving the current updates of grade 12 exam schedule every year. Similarly, we provide the board exam results of SEE and SLC exam as well.
Exam Preparation Tips
Are you preparing the board exams? Well, here are few tips for the psychological motivation. All the examinees must be fully motivated for the examination.
During the exam preparation think that there are several competitors ahead of me. But in the exam hall think that I am the best. No one can do better than mine.
Always report the exam center in time. Late reporting makes you panic for the exam.
Choose that question from the question paper which you can do the best.
Never leave any questions unanswered.
Class 12 New Grading System
Since last year NEB has imposed new grading system. According to this new grading system students unable to get minimum of 35 percent will not be graded. It is called not graded i.e., NG. hence this new system is more tough than the previous one.
Class 12 Management Exam Routine
The class 12 routine for the management is out. Students can get the detail of the exam from the attached file at the end of this article. The final exam will commence from the second week of Baishek 2080.
Humanities Exam Routine for Class 12
There is huge number of students in this faculty. The SLC exam for this year is coming near. Here we have the exam routine for class 12 humanities faculty. Students can get their copy of the exam time table from this page.
At this moment we would like to express our best wishes to all the class 12 students for their upcoming final exam.
At the same time, you can also find the entrance exam model question for different universities in gbsnote.com.