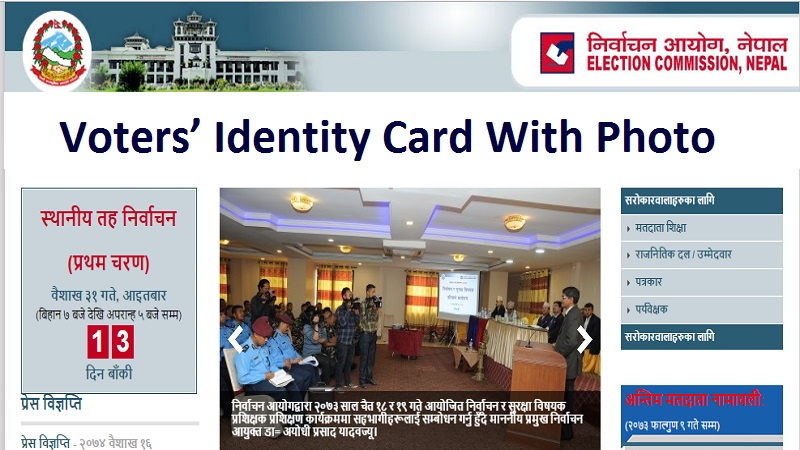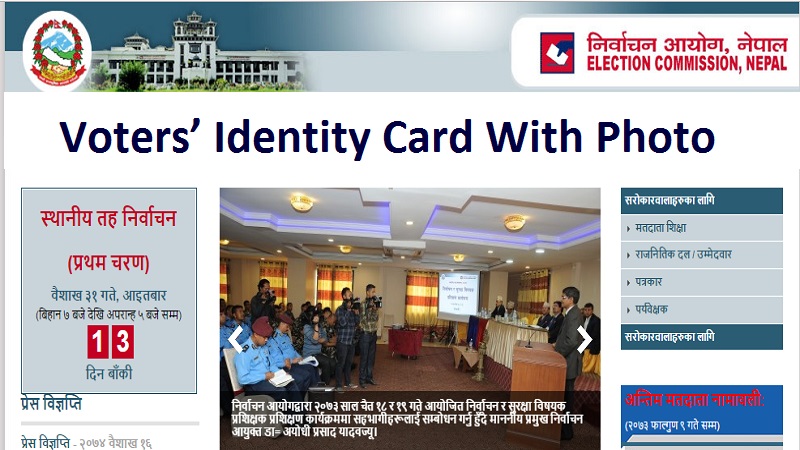 Here is Nepalese voter identity card with photo. Local election is schedule for Baishak 30 2079. So you can check your name in this voter identity card list. It is here given very systematically.
The voter identity card can be easily checked over here.
According to the provision of election commission Nepal one must have voters' identity to participate in polling. Therefore it is good time to check your name in this voter list. The election commission has made it easy to see online voters' list of all districts.
Steps to check the Nepalese voter identity card
Go to the website of election commission Nepal. The official site of election commission is www.election.gov.np
Then select the language either English or Nepali.
Click the voter list tab.
Download Your ID card


Some Important Links:
So in such way you can reach the list of voters with photo. In this list select the district. Then after select the village development committee or municipality.
Finally you have to choose the polling center and you will see the name list with photo. So for this purpose you can see the following photograph.
Details of voters with name list
It gives you the detail of the voter. In this section you can see the voter's date of birth, citizenship card number and many more. In other word it is like the national identity card.
Therefore the voter's identity card is just like the substitute of national identity card or citizenship card.
History of Previous Election 2074
This local level election was held in three phases. We have the details as follow.
First Phase Parliament Election Districts
Here is the list of second phase election for the federal and parliament 2074.
Local election 2074
In the history of Nepal local election is going to held after nearly 20 years. There are several obstacles in the development of local level in the absence of elected person in the local government.
The local level election will take place in two phases. In the first phase the polling day is 31 Baishak 2074. It is May 14, 2017. Similarly the second phase polling day is 31 Jestha 2074. At the same time political parties are busy for the selection of candidates in the local level.